The Age of Dopamine — How to Find a Balance in Times of Abundance
(rev.: Anna Lembke. Dopamine Nation: Finding Balance in the Age of Indulgence)
Paweł Sikora

University of Gdansk, Poland
References
Baumeister, Roy Tierney John. 2013. Siła woli. Odkryjmy na nowo to, co w człowieku najpotężniejsze. Tłum. Piotr Budkiewicz. Poznań: Media Rodzina.
De Lazari-Radek, Katarzyna. 2021. Godny pożądania stan świadomości. O przyjemności jako wartości ostatecznej. Łódź: Wydawnictwo Uniwersytetu Łódzkiego.
Lembke, Anna. 2021. Dopamine Nation: Finding Balance in the Age of Indulgence. New York: Dutton.*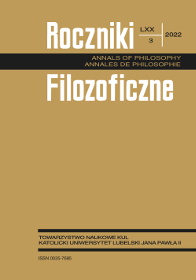 Copyright (c) 2022 Roczniki Filozoficzne
This work is licensed under a Creative Commons Attribution-NonCommercial-NoDerivatives 4.0 International License.