It Is Possible to Omit Ontology? Some Remarks Concerning Adam Jonkisz's Book Pytania i odpowiedzi [Questions and Answers]
Keywords:
Ajdukiewicz, theory of question, datum questionis, ontological assumptions
Abstract
In this paper I first present in a few sentences the main theses of Ajdukiewicz's theory of questions, then I briefly express the main theses of Professor Jonkisz's book and the indisputable advantages of this work. Then I put forward my objections to some theoretical solutions adopted by the Author, namely the assumption that datum questionis is sequence of components without any syntactic requirements, the assumption about the special character of the so called generalized negation and the assumption that no ontological assumptions are adopted in the work. The adoption of the language of set theory is already a privileging of a set theory ontology.
References
Ajdukiewicz, Kazimierz. 1975. Logika pragmatyczna. Warszawa: PWN
Ajdukiewicz, Kazimierz. 1985. Język i poznanie. Wybór pism. Warszawa: PWN
Bocheński, Józef M. 1993. "Pojęcie społeczeństwa wolnego". W: Józef M. Bocheński. Logika i filozofia. Wybór pism. Warszawa: PWN.
Brożek, Anna. 2007. Pytania i odpowiedzi. Warszawa: Wydawnictwo Naukowe Semper.
Czeżowski, Tadeusz. 1958. "O kulturze logicznej". W: Tadeusz Czeżowski. Odczyty filozoficzne. Toruń: ToruńskieTowarzystwo Naukowe.
Dywan, Zdzisław. 1991. "Denotacja u Arystotelesa i Fregego". W: Szkice z semantyki i ontologii sytuacji, red. Mieczysław Omyła, 11–28. Warszawa: BMS.
Jonkisz, Adam. 2020. Pytania i odpowiedzi. Ujęcie teoriomnogościowe. Kraków: Wydawnictwo Naukowe Akademii Ignatianum.
Koj, Leon. 1972. "Analiza pytań II. Rozważania nad strukturą pytań". Studia Semiotyczne t. III: 23–39.
Koj, Leon, i Andrzej Wiśniewski. 1989. Inquires into the Generating and Proper Use of Questions. Lublin: Wydawnictwo UMCS.
Kopania, Jerzy. 1987, "Logika pytań". W: Logika formalna. Zarys encyklopedyczny, red. Witold Marciszewski, 296–310. Warszawa: PWN.
Kubiński, Tadeusz. 1970. Wstęp do logicznej teorii pytań. Warszawa: PWN.
Lechniak, Marek. 1993. "A. A. Zinowiewa koncepcja logiki wielowartościowej". Roczniki Filozoficzne 41, z. 1: 73–86.
Lechniak, Marek. 2013. "J.M. Bocheński's method of philosophical analysis and contemporary applied ontology". Studies in East Europe Thought 65: 17–26.
Lechniak, Marek. 2016. "Logika a językoznawstwo". Roczniki Filozoficzne 64, nr 2: 29–44.
Mostowski, Andrzej. 1948. Logika matematyczna. Warszawa/Wrocław: Politechnika we Wrocławiu.
Wojtysiak, Jacek. 2008. Dlaczego istnieje raczej coś niż nic? Lublin: Towarzystwo Naukowe KUL.
Zinowiew, Aleksander. 1963. Filozoficzne problemy logiki wielowartościowej. Warszawa: PWN.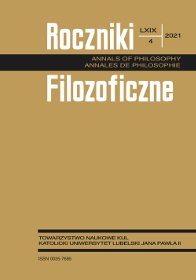 Copyright (c) 2021 Roczniki Filozoficzne
This work is licensed under a Creative Commons Attribution-NonCommercial-NoDerivatives 4.0 International License.