The Revival of Substance Dualism
Keywords:
Swinburne, dualism, personal identity, epiphenomenalism
Abstract
I argue in this essay that Richard Swinburne's revised version of Descartes' argument in chapter 5 of his Are We Bodies or Souls? does not quite get him to the conclusion that he requires, but that a modified version of his treatment of personal identity will do the trick. I will also look critically at his argument against epiphenomenalism, where, once again, I share his conclusion but have reservations about the argument.
References
Madell, Geoffrey. The Identity of the Self. Edinburgh: Edinburgh University Press, 1981.
Robinson, Howard. "A Dualist Account of Embodiment." In The Case for Dualism, edited by John R. Smythies and John Beloff, 43–57. Charlottesville: University of Virginia Press, 1989.
Robinson, Howard. "Dualism." In The Blackwell Guide to the Philosophy of Mind, edited by Stephen Stitch and Ted A. Warfield. Malden, MA: Blackwell, 2003.
Robinson, Howard. "Dualism." In The Stanford Encyclopedia of Philosophy, edited by Edward N. Zalta. Accessed September 25, 2020. https://plato.stanford.edu/entries/dualism.
Robinson, Howard. "Substance Dualism and Its Rationale." In Free Will and Modern Science, edited by Richard Swinburne, 158–77. Oxford: OUP (for the British Academy), 2011.
Robinson, Howard. From Knowledge Argument to Mental Substance: Resurrecting the Mind. Cambridge: CUP, 2016.
Swinburne, Richard. Are We Bodies or Souls?. Oxford: OUP, 2019.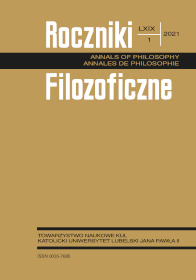 Copyright (c) 2021 Roczniki Filozoficzne
This work is licensed under a Creative Commons Attribution-NonCommercial-NoDerivatives 4.0 International License.