Summary of Are We Bodies or Souls?
Abstract
This book is about the nature of human beings, defending a version of substance dualism, similar to that of Descartes, that each of us living on earth consists of two distinct substances—body and soul. Bodies keep us alive and by enabling us to interact with each other and the world they make our lives greatly worth living; but our soul is the one essential part of each of us.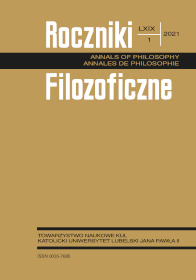 Copyright (c) 2021 Roczniki Filozoficzne
This work is licensed under a Creative Commons Attribution-NonCommercial-NoDerivatives 4.0 International License.