Spinoza's Proposal of Freedom as Reason's Driven Activity in Conformity with Nature and Virtue
Przemysław Gut

The John Paul II Catholic University of Lublin, Faculty of Philosophy
Keywords:
Spinoza; freedom; free will; determinism; reason; virtue
Abstract
The main goal of submitted paper is to present the crucial trains of Spinoza's conception of freedom. The focal point of undertaken analysis aims to demonstrate the originality and uniqueness of Spinoza's proposal. In first step the different aspects of definition of freedom is examined. Next, the Spinoza's arguments concerning the rejection of free will are scrutinized. Finally, the connection between freedom and reason is presented. In conclusion, the distinguished characteristics of free person are spelled out.
References
Bennett J.: A Study of Spinoza's Ethics, Cambridge 1984.
Curley E.: Behind the Geometrical Method. A Reading of Spinoza's Ethics, Princeton 1988.
Gut P.: Jak możliwa jest wolność? (Leibniz), [w:] Oblicza filozofii XVII wieku, red. S. Janeczek, Lublin 2008, s. 197-212.
Gut P.: Zagadnienie aktywności w filozofii Spinozy (w druku).
Hampshire S.: Spinoza and the Idea of Freedom, [w:] Spinoza: A Collection of Critical Essays, ed. M. Grene, Garden City 1973, s. 297-317.
Kartezjusz, Zasady Filozofii, tłum. I. Dąmbska, Kęty 2001.
Kołakowski L.: Jednostka i nieskończoność, Warszawa 1958.
Leibniz W.G.: Teodycea, O dobroci Boga, wolności człowieka i pochodzeniu zła, tłum. M. Frankiewicz, Warszawa 2001.
Meijer L.: Do życzliwego czytelnika (Zasady filozofii Kartezjusza w porządku geometrycznym wywiedzione), [w:] Spinoza, Pisma wczesne, tłum. L. Kołakowski, Warszawa 1969, s. 9-10.
Spinoza, Etyka w porządku geometrycznym dowiedziona, tłum. I. Myślicki, Warszawa 1954.
Spinoza, Listy mężów uczonych do Benedykta de Spinozy oraz odpowiedzi autora wielce pomocne dla wyjaśnienia jego dzieł, tłum. L. Kołakowski, Warszawa 1961.
Spinoza, Traktat krótki o Bogu, człowieku i jego szczęśliwości, [w:] tenże, Pisma wczesne, tłum. L. Kołakowski, Warszawa 1969, s. 207-337.
Wilson M.D.: Spinoza's Theory of Knowledge, [w:] The Cambridge Companion to Spinoza, ed. D. Garrett, Cambridge 1996, s. 89-141.
Ziemiński I.: Człowiek wolny nie myśli o śmierci…, "Przegląd Filozoficzny" 2002, 42 (2), s. 45-61.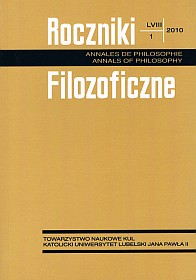 Copyright (c) 2010 Roczniki Filozoficzne
This work is licensed under a Creative Commons Attribution-NonCommercial-NoDerivatives 4.0 International License.