The Matrix as Metaphysics
(transl. Jacek Jarocki)
David Chalmers

New York University
Keywords:
matrix; metaphysics; skepticism; brain in a vat
Abstract
Tytuł oryginalny: The Matrix as Metaphysics. Pierwotna wersja tekstu zamieszczona została na niedostępnej już stronie internetowej filmu Matrix. Następnie artykuł został przedrukowany w tomie Philosophers Explore The Matrix, red. Christopher Grau (Oxford: Oxford University Press, 2005), 132–176. Obecnie można go znaleźć pod adresem: http://consc.net/papers/matrix.html. Przekład za zgodą Autora. (Przyp. tłum.).
References
Bostrom, Nick. 2003. "Are you living in a computer simulation?". Philosophical Quarterly 53 (211): 243–255.
Chalmers, David. 1990. "How Cartesian dualism might have been true", niepublikowany.
Chalmers, David. 2011, "A computational foundation for the study of cognition". Journal of Cognitive Science 12 (4): 323–357.
Dennett, Daniel. 1978. "Where am I?". W: Daniel Dennett. Brainstorms, 310–323. (Boston, Mass.: MIT Press. (Autoryzowany, polski przekład, zatytułowany Gdzie jestem?, dostępny jest online: http://autofocus.blox.pl/resource/gdzie_jestem.pdf).
Putnam, Hilary. 1975. "The meaning of 'meaning'". W: Hilary Putnam. Mind, Language, and Reality. Cambridge: Cambridge University Press. (Wydanie polskie: Hilary Putnam. "Znaczenie wyrazu 'znaczenie'". W: Hilary Putnam. Wiele twarzy realizmu i inne eseje, przełożył Adam Grobler, 93–184. Warszawa: PWN, 2014).
Putnam, Hilary. 1981. Reason, Truth, and History. Cambridge: Cambridge University Press.
Searle, John. 1984. "Can computers think?". W: John Searle. Minds, Brains, and Science. Harvard: Harvard University Press, 28-41. (Wydanie polskie: John Searle. "Czy komputery mogą myśleć?". W: John Searle. Umysł, mózg i nauka, przełożył Jerzy Bobryk. Warszawa: PWN, 1995, 25-37).
Thompson, Bradley Jon. 2003. The Nature of Phenomenal Content, niepublikowana rozprawa doktorska, University of Arizona.
Wolfram, Stephen. 2002. A New Kind of Science. Champaign: Wolfram Media.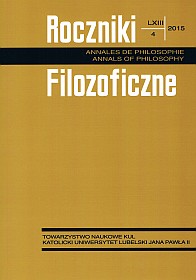 Copyright (c) 2015 Roczniki Filozoficzne
This work is licensed under a Creative Commons Attribution-NonCommercial-NoDerivatives 4.0 International License.