Homosexual Sex and the One-Flesh Union
Erik J. Wielenberg

DePauw University, Department of Philosophy, Indiana
Keywords:
Alexander Pruss; one-body; sex; love; marriage; homosexual
Abstract
I critically examine Alexander Pruss's conception of the one-body union described in Genesis 2:24. Pruss appeals to his conception of the one-body union to advance two arguments for the conclusion that homosexual sex is morally wrong. I propose an alternative conception of the one-body union that implies that heterosexual and homosexual couples alike can participate in the one-body union; I take that implication of my account to be a significant advantage over Pruss's account.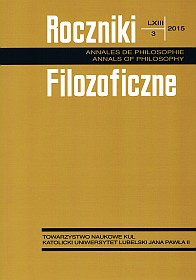 Copyright (c) 2015 Roczniki Filozoficzne
This work is licensed under a Creative Commons Attribution-NonCommercial-NoDerivatives 4.0 International License.