What's Love Got to Do with It?
N.N. Trakakis

Australian Catholic University
Keywords:
romantic love; marriage; J.K. Campbell; Byzantium
Abstract
This paper contests an important assumption guiding Alexander Pruss' One Body, that marriage is intimately connected with love, including romantic love. This assumption, I argue, is the product in part of a distinctively modern understanding of marriage. To show this, Pruss' position is set against the premodern, and in particular the Byzantine Christian, view and practice of marriage, where marriage was not grounded to any significant extent on (romantic) love. Finally, some indication is provided as to why romantic love was disassociated from marriage in medieval Christian culture.
References
Appignanesi, Lisa. All About Love: Anatomy of An Unruly Emotion. London: Virago Press, 2011.
Brown, P.G. McC. "Love and Marriage in Greek New Comedy," Classical Quarterly 43 (1993): 189-205.
Cameron, Averil. "Sacred and Profane Love: Thoughts on Byzantine Gender." In Women, Men and Eunuchs: Gender in Byzantium, edited by Liz James, 1–23. London: Routledge, 1997.
Cameron, Averil. The Byzantines. Oxford: Blackwell, 2006.
Campbell, J.K. Honour, Family and Patronage: A Study of Institutions and Moral Value in a Greek Mountain Community. Oxford: Clarendon Press, 1964.
Clark, Gillian. Women in Late Antiquity: Pagan and Christian Life-Styles. Oxford: Clarendon Press, 1993.
Garland, Lynda. "Life and Ideology of Byzantine Women: A Further Note on Conventions of Behaviour and Social Reality as Reflected in Eleventh and Twelfth Century Historical Sources," Byzantion 58 (1988): 361–93.
Gleeson, Andrew. A Frightening Love: Recasting the Problem of Evil. Houndmills: Palgrave, 2012.
Herrin, Judith, and Alexander P. Kazhdan. "Marriage." In Oxford Dictionary of Byzantium, edited by Alexander P. Kazhdan (editor in chief), vol. 2, 1304–1305. New York: Oxford University Press, 1991.
Laiou, Angeliki E. "Sex, Consent, and Coercion in Byzantium." In Consent and Coercion to Sex and Marriage in Ancient and Medieval Societies, edited by Angeliki E. Laiou, 109–221. Washington, D.C.: Dumbarton Oaks Research Library and Collection, 1993.
Leyser, Henrietta. Medieval Women: A Social History of Women in England, 450–1500. London: Phoenix, 2002.
Meyendorff, John. Marriage: An Orthodox Perspective. Crestwood: St. Vladimir's Seminary Press, 1984.
Pruss, Alexander R. One Body: An Essay in Christian Sexual Ethics. Notre Dame: University of Notre Dame Press, 2012.
Talbot, Alice-Mary. "Women." In The Byzantines, edited by Guglielmo Cavallo, 117–43. Chicago: University of Chicago Press, 1997.
Walcot, Peter. "Romantic Love and True Love: Greek Attitudes to Marriage." Ancient Society 18 (1987): 5-33.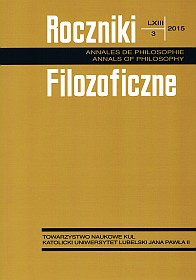 Copyright (c) 2015 Roczniki Filozoficzne
This work is licensed under a Creative Commons Attribution-NonCommercial-NoDerivatives 4.0 International License.