One Body: Overview
Alexander R. Pruss

Baylor University, Department of Philosophy
Keywords:
sex; love; body; sexuality; reproduction; procreation; Inference to Best Explanation; theology; philosophy; teleology; menopause; Christianity; Catholicism
Abstract
I offer a reading of my book One Body on Christian sexual ethics as an application of Inference to Best Explanation based on theological and philosophical data.
References
Murphy, Mark C. 1997. "The conscience principle." Journal of Philosophical Research 22:384–407.
Pruss, Alexander R. 2013. One Body: An Essay in Christian Sexual Ethics. Notre Dame: Notre Dame University Press.
Punzo, Vincent. 1969. Reflective Naturalism. New York: MacMillan.
Roberts, Robert. 2003. Emotions: An Essay in Aid of Moral Psychology. Cambridge: Cambridge University Press.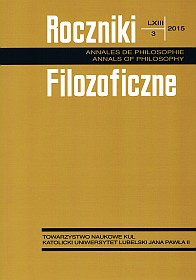 Copyright (c) 2015 Roczniki Filozoficzne
This work is licensed under a Creative Commons Attribution-NonCommercial-NoDerivatives 4.0 International License.