Can Ethics of Care Lead to the Disappearance of Care?
Dariusz Juruś

Jagiellonian University in Cracow
Keywords:
ethics of care; direct and indirect care; voluntary and involuntary care; social justice
Abstract
In the article, the Author tries to show that the ethics of care, and more precisely, some of the demands of its prominent representatives, may lead to the disappearance of care in its fundamental meaning. These proposals aim to extend care to the socio-political relations. The thesis is proved by using the typology of care.
References
Beito, David. "Mutual Aid for Social Welfare: The Case of American Fraternal Societies", w: After the Welfare State, red. Tom G. Palmer. Ottawa: Jameson Books, 2012.
Engster, Daniel. Rozważania na temat teorii opieki: praktyka i obowiązek opieki. Dostęp 8.03.2015. http://www.ekologiasztuka.pl/pdf/f00087engster.pdf.
Engster, Daniel. The Heart of Justice. Care Ethics and Political Theory. Oxford: Oxford University Press, 2009.
Gilligan, Carol. In a Different Voice: Psychological theory and women's development. Cambridge, Mass.–London: Harvard University Press, 1982.
Held, Virginia. The ethics of care: Personal, political, and global. Oxford: Oxford University Press, 2006.
Kohlberg, Lawrence. Moral Stages and Moralization: The Cognitive-Developmental Approach. W: Moral Development and Behavior, red. Thomas Lickona, 170–205. New York: Holt McDougal, 1976.
Kohlberg, Lawrence. Essays on Moral Development, vol. I: The Philosophy of Moral Development. San Francisco: Harper & Row, 1981.
Kohlberg, Lawrence. "From Is to Ought: How to Commit the Naturalistic Fallacy and Get Away with It in the Study of Moral Development". W: Cognitive Development and Epistemology, red. Theodore Mischel, 151–235. New York, London: Academic Press, 1971.
Kymlicka, Will. Współczesna filozofia polityczna. Tłum. Andrzej Pawelec. Kraków: Fundacja im. Stefana Batorego, 1998.
Murray, Charles. Bez korzeni. Tłum. Paweł Kwiatkowski. Poznań: Zysk i S-ka, 2001.
Noddings, Nel. Caring: The Feminine Approach to Ethics and Moral Education. Berkeley, Los Angeles: University of California Press, 1984.
Norberg, J., Spór o globalizację. Tłum. Piotr Bonisławski. Warszawa: Jan M. Fijor, 2006.
Nussbaum, Martha, The Feminist Critique of Liberalism. Lindley Lectures. Lawrence: University of Kansas, 1993.
Rawls, John. Teoria sprawiedliwości. Tłum. Maciej Panufnik, Jarosław Pasek, Adam Romaniuk. Warszawa: Wydawnictwo Naukowe PWN, 1994.
Tönnies, Ferdinand. Wspólnota i stowarzyszenie: rozprawa o komunizmie i socjalizmie jako empirycznych formach kultury. Tłum. Małgorzta Łukasiewicz. Warszawa: Wydawnictwo Naukowe PWN, 1988.
Tronto, Joan C. Moral Boundaries: A Political Argument for an Ethics of Care. New York: Psychology Press, 1993.
Uliński, Maciej. Etyka troski i jej pogranicza. Kraków: Aureus, 2012.
Walker, Margaret Urban. Moral Understandings: A Feminist Study in Ethics. New York, London: Routledge, 1998.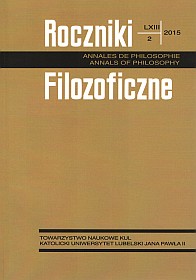 Copyright (c) 2015 Roczniki Filozoficzne
This work is licensed under a Creative Commons Attribution-NonCommercial-NoDerivatives 4.0 International License.