Physicalist Panpsychism (przeł. Jacek Jarocki)
Galen Strawson

Department of Philosophy, University of Texas at Austin

Jacek Jarocki

Department of the History of Modern and Contemporary Philosophy, Faculty of Philosophy at the John Paul II Catholic University of Lublin
Keywords:
panpsychism; physicalism; materialism; philosophy of mind
Abstract
Original: Galen Strawson, "Physicalist Panpsychism", in: The Blackwell Companion to Consciousness. Second Edition, edited by Susan Schneider and Max Velmans (Oxford: Wiley Blackwell, 2017), 374-390. Translation with permission of the author.
Rougly speaking, panpsychism is the view, that everything is mind or have consciousness. Although the view has a long and venerable tradition, and becomes more and more popular in the contemporary debate, it still has many opponents. The aim of this article is to prove that panpsychism is the best metaphysical account of the nature of the ultimate stuff of reality. At the same time, it is a kind of physicalism, according to which experience (experientiality) is the fundamental stuff of all concrete objects.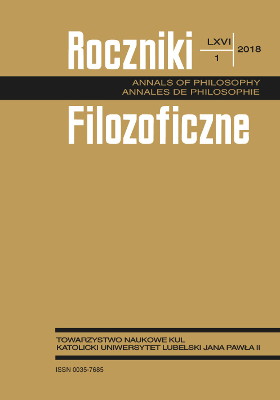 Copyright (c) 2018 Roczniki Filozoficzne
This work is licensed under a Creative Commons Attribution-NonCommercial-NoDerivatives 4.0 International License.