Classification of Risk in Public Procurement
Mirosław Urbanek

The John Paul II Catholic University of Lublin, Faculty of Social Science
Keywords:
public procurement; management control; risk management; risk classification; risk factor
Abstract
Risk is an inherent element of any activity. It also applies to the units of the public finance sector. The obligation imposed by the legislator to introduce management control mechanisms enforced the systematic approach on the risk management as well. This approach is very particular in relation to spending of public funds carried out in the public procurement process. Risk management is a process. Its essential element is the identification and classification of risk. The aim of this article is to propose a methodology for classifying risk in public procurement. The author described the public procurement market, pointing to the principles that shape it. He presented the concept, purpose, and stages of management control. On that basis, he outlined the concept of classification of risk in public procurement. According to the author, the knowledge about possible threats occurring in the public procurement procedure, the effects of their occurrence, and the impact on the objectives pursued by the individual is extremely important. Moreover, its appropriate systematization, ordering and classification can improve the risk management process. The proposed method of classification of risk in procurement may be flexibly adopted in various JSFPs, improving the effectiveness of risk management.
References
Duliniec A., Finansowanie przedsiębiorstwa, Polskie Wydawnictwo Ekonomiczne, Warszawa 2007.
Jajuga K. (red.), Zarządzanie ryzykiem, Wydawnictwo Naukowe PWN, Warszawa 2007.
Jajuga K., Jajuga T., Inwestycje. Instrumenty finansowe, ryzyko finansowe, inżynieria finansowa, Wydawnictwo Naukowe PWN, Warszawa 2012.
Komunikat nr 23 Ministra Finansów z dnia 16 grudnia 2009 r. w sprawie standardów kontroli zarządczej dla sektora finansów publicznych, Dz. Urz. Min. Fin. nr 15, poz. 84.
Konstytucja Rzeczypospolitej Polskiej, Dz. U. nr 78, poz. 483 z późn. zm.
Mojsiewicz M., Tarczyński W., Zarządzanie ryzykiem, Polskie Wydawnictwo Ekonomiczne, Warszawa 2001.
Płoskonka J., Pojęcie kontroli w ujęciu zarządczym, "Kontrola Państwowa" (NIK, Warszawa)2006, nr 2.
Reasekuracja. Klasyczne i alternatywne metody transferu ryzyka ubezpieczeniowego, red. A. Małek, Poltext, Warszawa 2011.
Sprawozdanie Prezesa Urzędu Zamówień Publicznych o funkcjonowaniu systemu zamówień publicznych w 2017 r., UZP, Warszawa 2018.
Strupczewski G., Zarządzanie ryzykiem – systematyka pojęć, "Wiadomości Ubezpieczeniowe" 2004, nr 5-6.
Strupczewski G., Zastosowanie ubezpieczeniowych instrumentów pochodnych jako sposób alternatywnego transferu ryzyka katastroficznego, "Zeszyty Naukowe Uniwersytetu Ekonomicznego w Krakowie. Finanse" 2011, nr 875.
System zamówień publicznych, red. J. Sadowy, UZP, Warszawa 2013.
Wieczorek-Kosmala M., Nietradycyjne instrumenty finansowania ryzyka w przedsiębiorstwie, [w:] Ekonomia, finanse. Współczesne wyzwania i kierunki rozwoju, red. H. Buk [i in.], Wydawnictwo Uniwersytetu Ekonomicznego w Katowicach, Katowice 2010.
Williams C.A., Heins R.M., Risk Management and Insurance, McGraw-Hill, New York 1998.
Williams C.A., Smith M.L., Young P.C., Zarządzanie ryzykiem a ubezpieczenia, Wydawnictwo Naukowe PWN, Warszawa 2002.
Zarządzanie ryzykiem w sektorze publicznym. Podręcznik wdrożenia systemu zarządzania ryzykiem w administracji publicznej w Polsce, Ministerstwo Finansów, Warszawa [b.r.].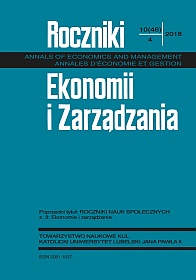 Copyright (c) 2018 Roczniki Ekonomii i Zarządzania
This work is licensed under a Creative Commons Attribution-NonCommercial-NoDerivatives 4.0 International License.