Studies in Canon Law in the Depths of Reforms
Keywords:
canon law; reform; teaching; Second Vatican Council; Veritatis gaudium
Abstract
The reform of higher education in Poland (2018) affects also studies in canon law (starting from the classification of disciplines). In parallel with the governmental reform, this course of study is being adapted to the norms of Pope Francis' Apostolic Constitution Veritatis gaudium on ecclesiastical universities and faculties (8.12.2017). In this article, after the question of "what and how to teach" is discussed in Part 1, a panorama of places and levels of education is presented in Part 2. The author discusses the teaching of canon law in the light of the Vatican II work, including the basic principles of the current regulations, drawing on his own experience. He believes that one cannot expect satisfactory results if the canon law reform is introduced administratively, disregarding proper scientific councils of institutes or faculties. Having mentioned "where to study" in the concluding section, he argues that "solutions adopted by individual entities offering courses of study do have and will have a decisive influence on the future of canon law taught as an academic discipline", as well as in the area of fees and accessibility of university courses to foreigners.
References
Acuña Guirola, Sara, and Rocio Dominguez Bartolomé. 2000. Influencia de las Instituciones canónicas en la conformación del orden jurídico civil a través de la historia. Vol. 1. Cádiz: Editora de Publicaciones Cientificas y Profesionales.
Aguilar Ros, Paloma, and Ramón Herrera Bravo. 1994. Derecho Romano y Derecho Canónico. Elementos formativos de las instituciones jurídicas europeas. Granada: Comares.
Alessio, Luis. 2017. "T. I. Giménez Urresti. E. Corecco. P. J. Viladrich: teología y derecho canónico." Anuario Argentino de Derecho Canónico 23 (1): 35-48. http://bibliotecadigital.uca.edu.ar/repositorio/revistas/urresti-corecco-viladrich-teologia-derecho.pdf [accessed: 12.07.2019].
Álvarez de las Asturias, Nicolás. 2018. "Al servicio de la pastoral. Reformas para mejorar la formación en derecho canónico." https://www.almudi.org/articulos/13147-al-servicio-de-la-pastoral-reformas-para-mejorar-la-formacion-en-dere cho-canonico [accessed: 1.07.2019].
Burczak, Krzysztof, Emilia Czepczyńska, Marzena Dyjakowska, Maciej Jońca, i Sebastian Kwiecień, red. 2018. 100 lat nauk prawnych na Katolickim Uniwersytecie Lubelskim Jana Pawła II. Lublin: Wydawnictwo KUL.
Dębiński, Antoni. 2007. Kościół a prawo rzymskie. Lublin: Wydawnictwo KUL.
Dębiński, Antoni, Elżbieta Szczot, Jacek Jaśkowski, i Lidia Fiejdasz. 2005. Wydział Prawa, Prawa Kanonicznego i Administracji KUL. Informator. Lublin: Wydawnictwo KUL.
Dyduch, Jan. 2015. "Ogólna charakterystyka Wydziału Prawa Kanonicznego Uniwersytetu Papieskiego Jana Pawła II w Krakowie." Annales Canonici 11:79-93.
Edelby, Neophytos, Teodoro Jimenez Urresti, and Petrus Huizing 1965. "Editoriale." Concilium 1 (8): 7-9.
Ghirlanda, Gianfranco. 2003. "Reforma degli studi nelle facoltà di diritto canonico." Periodica 92:195-96.
Ghirlanda, Gianfranco. 2013. Introduzione al Diritto Ecclesiale: Lineamenti per una teologia del diritto nella Chiesa. Roma: Gregorian & Biblical Press.
Gómez-Iglesias Casal, Valentín. 2001. "El octavo principio directivo para la reforma del 'Codex Iuris Canonici'. El iter de su formulación." Fidelium Iura 11:13-39.
Graulich, Markus, ed. 2008. Il Codice di Diritto Canonico al servizio della missione della Chiesa. Roma: LAS.
Grocholewski, Zenon. 2008. "L'insegnamento del Diritto Canonico dopo la promulgazione del Codice del 1983." In La legge canonica nella vita della Chiesa. Indagini e prospettive nel segno del recente Magistero Pontificio, ed. Pontificio Consiglio per i testi Legislativi, 122-27. Roma: Libreria Editrice Vaticana.
Jiménez Urresti, Teodoro Ignacio. 1967. "Diritto canonico e teologia: due scienze diverse." Concilium 3 (8): 28-38.
Jiménez Urresti, Teodoro Ignacio. 1979. "Sobre la justificación teológica del Derecho Canónico, hoy." Revista Española de Derecho Canónico 35:5-91.
Jiménez Urresti, Teodoro Ignacio. 1985. "Ciencia del derecho canonico o canonistica, ¿es ciencia teológica?." Revista Española de Derecho Canónico 41:9-59.
Kurtschei, Bertrandus. 1951. Historia Iuris canonici. Historia institutorum ab Ecclesiae fundatione usque ad Gratianum ad usum scholarum reimpressio. Roma: Officium Libri Catholici.
Martínez Torrón, Javier. 1991. Derecho Angloamericano y Derecho Canónico. Las raíces canónicas de la «Common Law». Madrid: Facultad de Derecho, Universidad Complutense.
Martínez Torrón, Javier. 1998. Anglo-American Law and Canon Law. Canonical Roots of the Common Law. Berlin: Duncker & Humblot.
Navarro Valls, Rafael. 1985. "La enseñanza universitaria del Derecho Canónico en la jurisprudencia española." Anuario de Derecho Eclesiástico del Estado 1:49-92.
Noszczak, Bartłomiej. 2009. "Okoliczności utworzenia Akademii Teologii Katolickiej w Warszawie (1954 r.)." Glaukopis: pismo społeczno-historyczne 15:206-37. http://www.glaukopis.pl/images/cale-numery/GLAUKOPIS_nr_15. pdf [dostęp: 1.07.2019].
Olmos Ortega, María Elena. 2005. "Derecho Canónico y formación del jurista." Ius Canonicum 45, no. 90:609-29.
Pawluk, Tadeusz. 1985. Prawo kanoniczne według Kodeksu Jana Pawła II. T. 1, Zagadnienia wstępne i normy ogólne. Olsztyn: Warmińskie Wydawnictwo Diecezjalne.
Petrani, Aleksy. 1961. Nauka prawa kanonicznego w Polsce w XVIII i XIX wieku. Lublin: Towarzystwo Naukowe KUL.
Redaelli, Carlo. 1991. Il concetto di diritto della Chiesa nella riflessione canonistica tra Concilio e Codice. Milano: Glossa.
Redaelli, Carlo. 1997. "Il metodo esegetico applicato al Codice di diritto canonico del 1917 e a quello del 1983." Periodica 86:57-70.
Roca, María José. 2005. "El Derecho Canónico como disciplina jurídica básica: implicaciones para su docencia e investigación en las Facultades de Derecho." Revista General de Derecho Canónico y Derecho Eclesiástico del Estado, iustel.com. 7.
Salinas Araneda, Carlos. 1996. "Una aproximación al derecho canónico en perspectiva histórica." Revista de Estudios Histórico-Jurídicos [Sección Historia del Derecho] 18:289-360.
Serres López de Guereñu, Roberto. 2013. "La enseñanza del derecho canónico en la legislación posterior al Concilio Vaticano II." Ius Communionis 1:65-83.
Sobański, Remigiusz. 2006. Europa obojga praw. Katowice: Księgarnia św. Jacka.
Subera, Ireneusz. 1977. Historia źródeł i literatury prawa kanonicznego. Warszawa: Akademia Teologii Katolickiej.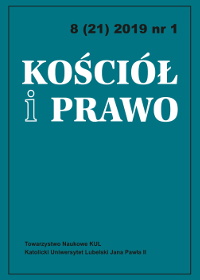 Copyright (c) 2019 Kościół i Prawo
This work is licensed under a Creative Commons Attribution-NonCommercial-NoDerivatives 4.0 International License.