Compulsory Insurance of Church Buildings in Interwar Poland
Keywords:
insurance market, independent Polish state, insurance crime
Abstract
In the first years of the existence of an independent Polish state, the obligation to insure church real estate against fire was maintained and then extended to new areas. This category of buildings was separated along the way of the works on the new system. A new tariff was set up and a lower payment was charged for signed up contracts. These preferential requirements for calculating contributions follows from the highest resistance of church buildings to the risk of fire. Both the material from which the church properties were built, and their location and resistance to other factors increasing the risk of a fire caused the fact that church buildings were very rarely damaged. Thanks to good financial results in this section, the insurance industry was able to offer better conditions to less affluent clients, which contributed to the improvement of the situation of the poorest people.
References
Bednaruk, Waldemar. 2018. "Przyczyny zwiększonej palności nieruchomości ubezpieczonych w PZUW przed II wojną światową." Krakowskie Studia z Historii Państwa i Prawa 11, nr 4:531-41.
Bednaruk, Waldemar. 2019. Przestępczość ubezpieczeniowa w międzywojennej Polsce. Lublin: Wydawnictwo KUL.
Chomicz, Bolesław. 1919. Ubezpieczenia miejskie. Uwagi nad ich stanem obecnym i przyszłością. Warszawa: Nakładem Polskiej Dyrekcji Ubezpieczeń Wzajemnych.
Dębski, Jan. 1958. "Z historii walk o społeczny charakter instytucji ubezpieczeń." W 150 lat ubezpieczeń w Polsce, red. Eugeniusz Kreid, t. 1, 195-208. Warszawa: Polskie Wydawnictwo Gospodarcze.
Kozłowski, Władysław. 1924. "Wyniki działalności polskich zakładów ubezpieczeniowych w ciągu pięciu lat inflacji (1919-1923)." Przegląd Ubezpieczeniowy 3-4:1-7.
Kozłowski, Władysław. 1930. "Zbrodnie na tle ubezpieczeniowem." Przegląd Ubezpieczeniowy 6:39-40.
Olszewski, Kazimierz. 1925. "Kilka uwag w związku z ostatnimi pożarami." Przegląd Ubezpieczeniowy 5:23-25.
Sangowski, Tadeusz. 1988. "Rozwój ubezpieczeń gospodarczych na ziemiach polskich w latach 1803-1945." W 185 lat ubezpieczeń gospodarczych w Polsce, red. Tadeusz Sangowski, 9-28. Warszawa: Wydawnicza Oficyna Drukarska Wojewódzkiej Biblioteki Publicznej i Książnicy Miejskiej im. M. Kopernika w Toruniu.
Wysznacki, Konstanty. 1926. Polska Dyrekcja Ubezpieczeń Wzajemnych w historycznym rozwoju. Przyczynek do dziejów ubezpieczeń publicznych w Polsce. Warszawa: Nakładem Polskiej Dyrekcji Ubezpieczeń Wzajemnych.
Zarębski, Franciszek. 1934. "Zagadnienie taryfowe w przymusowem ubezpieczeniu budowli od ognia." W Działalność Powszechnego Zakładu Ubezpieczeń Wzajemnych w latach 1926-1933, red. Władysław Strzelecki, 51-90. Warszawa: Nakładem Powszechnego Zakładu Ubezpieczeń Wzajemnych.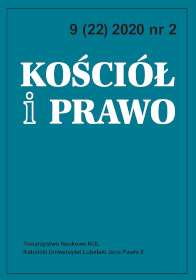 Copyright (c) 2020 Kościół i Prawo
This work is licensed under a Creative Commons Attribution-NonCommercial-NoDerivatives 4.0 International License.