The Role of the Diocese Bishop in the Process of the Discernment of a New Charism of Religiuos Life
Mariusz Marszałek

Cardinal Stefan Wyszynski University in Warsaw
Keywords:
charism; charism of the consecrated life; founder; erection of a religious institute
Abstract
The 1983 Code of Canon Law permits the diocesan bishop to erect a new religious institute. In reality the process of the formation of a new religious institute is long and consists on various steps regulated by the canon law. One of them is a discernment of a new charism of a religious life. The goal of the article is to present the role of the diocese bishop in this process.
References
Beyer, Jean. 1993. "Originalià dei carismi di vita consacrata." Periodica de re canonica 82, no. 2:257-92.
Ciardi, Fabio. 1994. "La riscoperta del carisma dell'Istituto." In La vita consacrata. Un carisma da riscoprire nella chiesa-comunione-missione, ed. Cristoforo Squarise, 175-204. Padova: Edizione Messaggero.
De Paolis, Velasio. 2010. La vita consacrata nella Chiesa. Venezia: Marcianum Press.
Jasiak, Robert. 2002. "Charyzmaty." W Leksykon duchowości katolickiej, red. Marek Chmielewski, 112-15. Lublin-Kraków: Wydawnictwo "M".
Ghirlanda, Gianfranco. 1993. "Carisma collettivo di un istituto di vita consacrata." In Nuovo Dizionario di Diritto Canonico, red. Carlos C. Salvador, Velasio De Paolis, and Gianfranco Ghirlanda, 130-33. Cinisello Balsamo: Edizioni Paoline.
Ghirlanda, Gianfranco. 2005. "Iter per l'approvazione degli istituti di vita consacrata a livello diocesano e pontificio e delle nuove forme di vita consacrata." Periodica de re canonica 94, no. 44:621-46.
Mainka, Rudolf. 1983. "Carisma e storia nella vita religiosa." In Carisma e istituzione nella Chiesa. Lo Spirito interroga i Religiosi, 81-103. Roma: Editrice Rogate.
Marszałek, Mariusz. 2016. "Stowarzyszenia publiczne wiernych dążące do uzyskania statusu instytutu zakonnego według obowiązującego prawa kanonicznego." Kościół i Prawo 5 (18), nr 1:33-51.
Mucci, Giandomenico. 2006. "Carisma e storia degli istituti religiosi." La Civiltà Cattolica 3747-3748, vol. 3, no. 15-16:274-76.
Necel, Wojciech. 2009. Prawo własne instytutu życia konsekrowanego jako funkcja charyzmatycznego obdarowania Kościoła. Poznań: Wydawnictwo Hlondianum.
Ogun, Donatus Aihmiosion. 2001. Foundation and canonical erection of an institute of consecrated life. Roma: Editrice Pontificià Università Gregoriana.
Perlasca, Alberto. 2004. "Le associazioni nate con l'intento di diventare IVC o SVA. Ulteriori riflessioni." Informationes SCRIS 30, no. 1:93-113.
Ruiz, Teodoro Bahillo. 2011. "El camino para reconocer un Nuevo instituto de vida consagrada." Estudios Eclesiásticos 86, no. 339:687-716.
Sember, Benjamin. 2014. The Autonomy of a Public Association Founded to Become a Religious Institute. Roma: Pontifical Gregorian University.
Snela, Bogdan. 1979. "Charyzmat." W Encyklopedia Katolicka, t. 3, red. Romuald Łukaszczyk, Lubomir Bieńkowski, i Feliks Gryglewicz, 91-98. Lublin: Towarzystwo Naukowe KUL.
Szewczul, Bożena. 2002. Troska Kościoła o zachowanie patrimonium przez instytuty życia konsekrowanego. Warszawa: Wydawnictwo UKSW.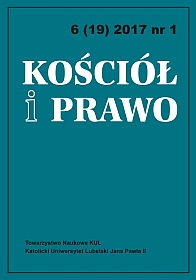 Copyright (c) 2017 Kościół i Prawo
This work is licensed under a Creative Commons Attribution-NonCommercial-NoDerivatives 4.0 International License.