Further comments regarding the presence of Immaculate Conception in works by Norwid
Stefan Sawicki

John Paul II Catholic University of Lublin, Prof. Emeritus
Keywords:
Cyprian Norwid, dogma, immaculate conception, Saint Mary, Tomasz Garbol
Abstract
The article joins the discussion on the question whether Cyprian Norwid properly understood the dogma of immaculate conception.
References
Garbol T., Norwid o Niepokalanym Poczęciu Najświętszej Marii Panny, "Studia Norwidiana" 32: 2014, s. 193-199.
Norwid C., Wiersze, wybór, wstęp, komentarz S. Sawicki, Lublin 1991.
Norwid C., Nie są nasze – pieśni nasze. Wiersze religijne, wybór, wstęp, komentarze S. Sawicki, Kielce 2021.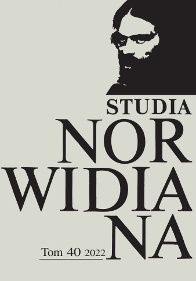 Copyright (c) 2022 Studia Norwidiana
This work is licensed under a Creative Commons Attribution-NonCommercial-NoDerivatives 4.0 International License.