The "vertical" dimension of norwidology
Keywords:
Lidia Banowska, Norwid, poetry, poem, aesthetic problem
Abstract
The sketch deals with the problem of Norwid's irony related to his anthropology. This issue appears in discussion with the book by Lidia Banowska (Byt i światłocień. O antropologii poetyckiej Norwida). The consideration lead to the conclusion that solving the aesthetic problem of the poem is the interpreter's task.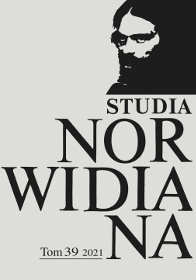 Copyright (c) 2021 Studia Norwidiana
This work is licensed under a Creative Commons Attribution-NonCommercial-NoDerivatives 4.0 International License.