Pope's Letter Translated by Norwid, the Mystery of the Poet's Gift to the Pope and the Fortress of Bomarsund
Keywords:
The Baltic Medal 1856, The Crimean War, Pope Pius IX, Pope's letter, The Siege of Sevastopol 1855
Abstract
The paper discusses a previously unknown first publication of the pope Pius IX's letter to Norwid in a local weekly "Tygodnik Katolicki" in Grodzisk Wielkopolski near Poznań on June 21st, 1861. The author proves that both the Polish translation of this Latin letter and an introductory note were written by Norwid himself. The author also identifies Norwid's two gifts to the pope as a 1683 Austrian medal of Our Lady of Mariazell (by Paul Seel) and a French medal commemorating the siege of Sebastopol (1855, work of Louis Desaide and Pierre Roquelay). In the final part of the paper the latter is opposed to a Latin ode, written by Mickiewicz on the occasion of the capture of Bomarsund, interpreted as signs of two contrary historiosophical visions: that of Poland versus the Ottoman Empire in the defense of Christianity in 1683 and that of France allied with the Ottoman Empire against Russia during the Crimean War (1853-56).
References
Arcab J., Głosy o Norwidzie w korespondencji pierwszych zmartwychwstańców. "Znak" 1960 nr 12 (78).
Arcab J., Norwid wobec Kościoła i Stolicy Apostolskiej, "Nasza Przeszłość. Studia z Dziejów Kościoła i Kultury Katolickiej w Polsce" IX: 1959.
Biliński B., Gli ann iromani di Cyprian Norwid (1847-48). Nell 150oanniversario della nascita del poeta, Wrocław 1973.
Cham, Chargeons les Russes, Paris 1854.
Ciampi S., Lettere militari con un piano di riforma dell'esercito polacco del Re Giovanni Sobiescki et altre de' suori secretari italiani, Firenze 1830.
Compagnion H., L'Orient: chants guerriers, Lille 1855.
Dunin-Borkowski S., O obowiązkach bibliotekarza. Rzecz napisana w roku 1827 z powodu uporządkować i otworzyć się mającej biblioteki imienia Ossolińskich, Lwów 1829.
Fontille E., Adam Mickiewicz: rys biograficzny, złożony ze wspomnień i wrażeń, Kraków 1863.
Fontille E., Adam Mickiewicz, sa vie et sa croyance. Esquisse biographique, impressions et souvenirs, Paris 1862.
Fourdain A., La Prise de Bomarsund, Paris 1854.
Frankowski, de, Capitaine de Frégate, La campagne de la Baltique en 1854, Paris 1924, maszynopis.
Hammer J. von, Geschichte des Osmanischen Reiches, T. 10, Pest 1835.
Jastrzębski Z., List Ignacego Grudzińskiego do Cypriana Norwida. "Polonista. Czasopismo Koła Polonistów S[tudentów] KUL " 1958, nr 3.
Kadry morskie Rzeczypospolitej, t. V: Polska marynarka wojenna. Dokumentacja organizacyjna i kadrowa oficerów, podoficerów i marynarzy (1918-1947), red. J. K. Sawicki, Gdynia 2011.
Kjellberg L., Quand Mickiewicz a-t-il écrit son ode à Napoléon III ?, "Scando-Slavica" 15: 1969, nr 1.
Malegonnellio A., Joanni III. Poloniæ Regni Invictissomoob Viennam ab Obsidione Tvrcarvm Liberata Panegyric vs Romæ habitus, Florentiae MDL XXXIII .
Mickiewicz A., Dzieła wszystkie, t. I, część 3: Wiersze. 1829-1855, oprac. Cz. Zgorzelski, Wrocław 1981.
Rewoliński T., Medale religijne odnoszące się do Kościoła katolickiego we wszystkich krajach dawnej Polski w zbiorze dra med. T. Rewolińskiego, Kraków 1887.
Roll K., Die Medaillen-Stempel-Sammlung des Benediktiner-Stiftes St. Peter in Salzburg. Ein Beitrag zur Geschichte der Weihepfennige, "Mitteilungen der Gesellschaft für Salzburger Landeskunde" t. XLI V: 1914.
Trojanowiczowa Z., Dambek Z. przy współudziale J. Czarnomorskiej, Kalendarz życia i twórczości Cypriana Norwida, Poznań 2007.
Trojanowiczowa Z., Lijewska E., Z prac nad "Kalendarzem życia i twórczości Cypriana Norwida, "Studia Norwidiana" 17-18: 1999-2000.
Vautier L., Le cri du jour, Troyes 1855.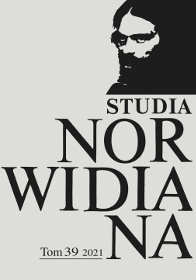 Copyright (c) 2021 Studia Norwidiana
This work is licensed under a Creative Commons Attribution-NonCommercial-NoDerivatives 4.0 International License.