Commentary to the Judgement of the European Court of Human Rights in the Case of Sekmadienis Ltd. V. Lithuania (Application No. 69317/14)
Stanisław Dziwisz

The Supreme Audit Office
Keywords:
advertisement; freedoms of speech; morality; object of religious worship; offence against religious feelings; protection of religious feelings
Abstract
The subject matter of the commentary is the judgment of the European Court of Human Rights issued on 30 January 2018 in the case of Sekmadienis Ltd. against Lithuania. ECHR found that imposition of a fine in connection with advertising campaign in which used an object of religious worship for commercial purposes was a violation of art. 10 of the Convention for the Protection of Human Rights and Fundamental Freedoms. In the Court's view, the fine imposed on the applicant company was an interference with its freedom of speech. Although this interference pursued a legitimate aim and it was provided for in national law, it had violated balance between, the protection of public morals and the rights of religious people and the right to freedom of expression.
References
Janyga Wojciech: Przestępstwo obrazy uczuć religijnych w polskim prawie karnym w świetle współczesnego pojmowania wolności sumienia i wyznania, Warszawa: Wydawnictwo Sejmowe 2010.
Kalisz Anna: Klauzula moralności (publicznej) w prawie polskim i europejskim jako przykład regulacyjnej, ochronnej oraz innowacyjnej funkcji prawa, PRINCIPIA Pisma koncepcyjne z filozofii i socjologii teoretycznej 57-58 (2013), s. 191-213.
Kamiński Ireneusz: Ograniczenia swobody wypowiedzi dopuszczalne w Europejskiej Konwencji Praw Człowieka. Analiza krytyczna, Warszawa: Wolters Kluwer Polska 2010.
Sobczak Witold: Wolność myśli, sumienia i religii. Poszukiwanie standardu europejskiego, Toruń: Dom Wydawniczy DUET 2013.
Wyrzykowski Mirosław: Granice praw i wolności – granice władzy, [w:] Obywatel – jego wolności i prawa, red. B. Oliwa–Radzikowska, Warszawa: Biuro Rzecznika Praw Obywatelskich 1998, s. 45-59.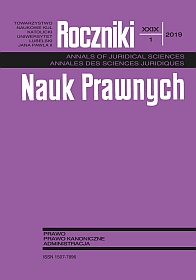 Copyright (c) 2019 Roczniki Nauk Prawnych
This work is licensed under a Creative Commons Attribution-NonCommercial-NoDerivatives 4.0 International License.