Provisions of the Indexed Loan Agreement to a Foreign Currency or Currency Denominated in Foreign Currency – a Study of the Problem
Keywords:
loan agreement; abusive clause; borrower; lender; claim
Abstract
The purpose of the article is to define an unlawful contractual clause on the example of an indexed credit agreement or denominated in a currency other than the Polish currency. The forbidden clause is the possibility to avoid extremely unfavorable conditions in concluded contracts. The elaboration presents the situation of borrowers who have taken a loan indexed to a foreign currency or denominated in a foreign currency. The analysis was based on the actual unlawful contractual provisions. The article ends with conclusions regarding the legitimacy of borrowers' claims.
References
Barembuch Adam: Kredyt frankowy a kredyt złotowy – perspektywa zmian clash-flow, Finanse, Rynki Finansowe, Ubezpieczenia 82 (2016), nr 4, cz. 2, [w:] http://www.wneiz.pl/nauka _wneiz/ frfu/82-2016/FRFU-82-cz2-805.pdf [dostęp: 9.04.2018], s. 805-820.
Belka Marek: Dlaczego tylko odkrywać? Lekcje z obecnego kryzysu dla ekonomii i polityki gospodarczej, Bezpieczny Bank, Bankowy Fundusz Gwarancyjny 4 (53) 2013, s. 7-18.
Łaszek Jacek: Rozwój i finansowanie sektora nieruchomości w Polsce, Bezpieczny Bank, Bankowy Fundusz Gwarancyjny 4 (53) 2013, s. 19-51.
Łętowska Ewa: Europejskie prawo umów konsumenckich, Warszawa: Wydawnictwo C.H. Beck 2004.
Ofiarski Zbigniew: Prawo bankowe. Komentarz LEX, Warszawa: Wolters Kluwer 2013.
Szewczyk Ryszard: Ekonomiczne, prawne i etyczne aspekty kredytów frankowych, Bank i Kredyt 48 (5) 2017, [w:] http://bankikredyt.nbp.pl/content/2017/05/BIK_05_2017_01.pdf [dostęp: 11.04.2018], s. 451-462.
Komisja Nadzoru Bankowego, Rekomendacja S dotycząca dobrych praktyk w zakresie ekspozycji kredytowych zabezpieczonych hipotecznie, [w:] https://www.knf.gov.pl/knf/pl/komponenty/ img/rekomendacja_s_8566.pdf [dostęp: 11.04.2018].
Raport Rzecznika Finansowego, Analiza prawna wybranych postanowień umownych stosowanych przez banki w umowach kredytów indeksowanych do waluty obcej lub denominowanych w walucie obcej zawieranych z konsumentami, [w:] https://rf.gov.pl/pdf/Raport_RF_Kredyty _walutowe.pdf [dostęp: 1.01.2018].
Związek Banków Polskich, 24 prawdy o kredytach udzielanych we frankach, Dziennik Gazeta Prawna, 9-11 października 2015 r., nr 197, s. E2-E4.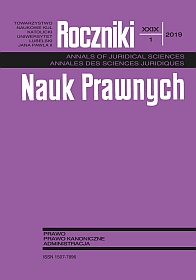 Copyright (c) 2019 Roczniki Nauk Prawnych
This work is licensed under a Creative Commons Attribution-NonCommercial-NoDerivatives 4.0 International License.