The Pastoral Tasks Entrusted to Religious Parishes by the Bishop of the Bydgoszcz Diocese
Wojciech Ciołek

Cardinal Stefan Wyszyński University in Warsaw, Poland
Keywords:
Evangelical counsels, canon 520, community, ministry, cooperation, parish priest
Abstract
The subject of this article is to present the pastoral tasks entrusted to the religious parishes by the Bydgoszcz diocesan bishop. The historical evaluation of the concept, the organization and development of the religious life were concisely presented. It was pointed out that the Evangelical counsels, a gift from God, became a measure of the lives of people who would like to follow the Christ. It has been shown that the form of life of these people has changed over the centuries. The role of the parish was emphasized as a special form of the Church's presence in the world. The general and theoretical problem concerning entrusting a parish and related tasks to a religious institute was presented. The tasks of the religious pastor were presented and the essential difference between a diocesan pastor and an episcopal pastor was highlighted. Religious parishes and their specific tasks in the Diocese of Bydgoszcz were analyzed in detail. Particular attention was paid to the role of religious orders in pastoral work. All the considerations highlighted the fact that the Bishop of the Bydgoszcz Diocese, Jan Tyrawa, did not legally entrust the parish to any order. In this context, it was emphasized that the present day requires greater cooperation between religious orders and local bishops and the joint implementation of specific tasks.
References
Doctrina de sacramento ordinis, Nauka o sakramencie kapłaństwa, kan. 1-3, [w:] Breviarum fidei. Wybór doktrynalnych wypowiedzi Kościoła, oprac. S. Głowa, I. Bieda, Poznań: Księgarnia Świętego Wojciecha 1998.
Łapiński Józef: Udział zakonów w duszpasterstwie parafialnym, [w:] Duszpasterstwo w świetle nowego Kodeksu Prawa Kanonicznego, red. J. Syryjczyk, Warszawa: ATK 1985.
Majda Czesław: Religijność miejska, Wrocław: Papieski Wydział Teologiczny 2004.
Skonieczny Piotr: Kim jest proboszcz zakonny?, "Annales Canonici" 10 (2014), s. 59-80.
Sobański Remigiusz: Powierzenie parafii zakonnikowi według motu proprio Ecclesiae sanctae, "Prawo Kanoniczne" 11 (1968), nr 1-2, s. 61-80.
Wallace Martin J.: The entrustment of parishes to religious institutes an examination of Canons 520 and 687, Ottawa: Saint Paul University 2018.
Wierzbicki Piotr: Współpraca wiernych świeckich z duchownymi w Kościele partykularnym według Kodeksu Prawa Kanonicznego z 1983 roku, Lublin: TN KUL 2016.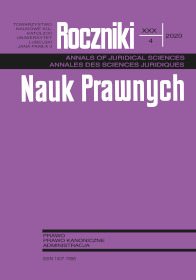 Section
Articles: Canon Law
Copyright (c) 2020 Roczniki Nauk Prawnych
This work is licensed under a Creative Commons Attribution-NonCommercial-NoDerivatives 4.0 International License.