Development of the Polish Legal Regulations on Homeless Animals
Keywords:
Poland, law, animal protection, humanitarian protection, stray animal, care, animal shelter, rabies, hunting district
Abstract
The main aim of the article is to discuss the development of Polish legal regulations on homeless animals. The research demonstrated that the problem of the protection of homeless animals had been marginalized by the Polish legislature for decades. This contributed significantly to the overpopulation of domestic animals and a significant increase in the number of homeless animals. The regulations currently in force fail to solve this problem as they focus more on remedying the effects of homelessness of animals than on preventing this problem.
References
Cyman Damian: Obowiązki gmin w zakresie opieki nad bezdomnymi zwierzętami, [in:] Finanse publiczne jednostek samorządu terytorialnego. Źródła finansowania samorządu terytorialnego we współczesnych regulacjach prawnych, eds. J. Gliniecka, E. Juchniewicz, T. Sowiński, Warszawa: CeDeWu Sp. z o.o. 2014, pp. 291-301.
Człowiek wobec bezdomnych zwierząt, ed. J. Szarek, Olsztyn: Uniwersytet Warmińsko-Mazurski 2002.
Człowiek wobec bezdomnych zwierząt. Prawo a rzeczywistość, ed. J. Szarek, Olsztyn: Uniwersytet Warmińsko-Mazurski 2003.
Dobrowolska Natalia: Status prawny psa w Polsce. Poradnik praktyka psiarza, Brzezia Łąka: Wydawnictwo Poligraf 2018.
Goettel Mieczysław: Sytuacja zwierzęcia w prawie cywilnym, Warszawa: Wolters Kluwer Polska 2013.
Golenia Anna, Marek Malwina: Zadania własne gminy w zakresie praw zwierząt, [in:] Urzędnik jako strażnik realizacji ustawowych obowiązków wobec zwierząt, eds. T. Pietrzykowski, A. Bielska-Brodziak, K. Gil, M. Suska, Katowice: Wydawnictwo Uniwersytetu Śląskiego 2016, pp. 13-29.
Kurzępa Bolesław, Kurzępa Elżbieta: Wątpliwości dotyczące pojęcia "zwierzę bezdomne" użytego w ustawie o ochronie zwierząt, "Przegląd Prawa Publicznego" 2016, No. 11, pp. 36-40.
Matecki Tadeusz: Ochrona zwierząt w Polsce, Warszawa: Zarząd Główny Zjednoczenia Towarzystw Opieki nad Zwierzętami R. P. 1949.
Radecki Wojciech: Oceny prawne zwalczania zdziczałych psów i kotów w obwodzie łowickim, [in:] Księga pamiątkowa profesora Ryszarda Paczuskiego, ed. Z. Bukowski, Toruń: Towarzystwo Naukowe Organizacji i Kierownictwa. Stowarzyszenie Wyższej Użyteczności "Dom Organizatora" 2004, pp. 287-300.
Radecki Wojciech: Ustawy o ochronie zwierząt. Komentarz, Warszawa: Difin 2015.
Smaga Łukasz: Ochrona humanitarna zwierząt, Białystok: Agencja Wydawniczo-Edytorska EkoPress 2010.
Szalewska Małgorzata: Counteracting Animal Homelessness and Providing Care for Stray Animals as a Task of a Commune, "Polish Yearbook of Environmental Law" 6 (2016), pp. 91-107, https://apcz.umk.pl/czasopisma/index.php/PYEL/article/view/PYEL.2016.006/10976 [accessed: 19.10.2020].
Żukowski Arkadiusz: Zwalczanie psów i kotów w obwodach łowieckich, "Prokuratura i Prawo" 2007, No. 12, pp. 123-135.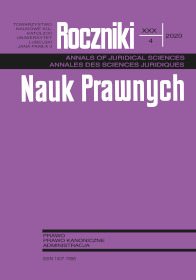 Copyright (c) 2020 Roczniki Nauk Prawnych
This work is licensed under a Creative Commons Attribution-NonCommercial-NoDerivatives 4.0 International License.