Creding of Customs Duties Under the Law of 31 July 1924 on the Settlement of Customs Relations
Keywords:
customs credit; duty; customs clearance of goods; the customs office; importer; ocean traffic
Abstract
This publication aims at a comprehensive discussion of the provisions relating to the issue of customs credit during the Second Polish Republic. In the current literature, there is no publication examining the provisions concerning this institution, and therefore the article of the fumes was first and foremost an analysis of the interwar legislation related to the issue. It is worth noting that the customs credit in the interwar period was used for both land and sea transport. The study will apply the historical-legal, dogmatic-legal and comparative method.
References
Dworas-Kulik Judyta: Hipoteka morska w Polsce w okresie międzywojennym, [w]: Badania i Rozwój Młodych Naukowców w Polsce. Nauki humanistyczne i społeczne, cz. 1, red. J. Nyćkowiak, J. Leśny, Poznań: MN 2018, s. 122-127.
Dworas-Kulik Judyta: Rzeczowe zabezpieczenie wierzytelności morskich w międzywojennej Polsce, Roczniki Nauk Prawnych 28 (2018), nr 3, s. 35-48.
Koziński Mirosław H.: Ewolucja przepisów o hipotece morskiej w prawie polskim, Rejent 107 (2000), nr 3, s. 30-57.
Krzywicki Wieńczysław: Dzieje polityki celnej. Zarys historyczny ustawodawstwa celnego ze specjalnym uwzględnieniem ceł zbożowych, Warszawa: ZPOR 1925.
Mosiej Gerard: Dzieje polityki celnej Polski w zarysie, Ekonomia. Rynek, Gospodarka, Społeczeństwo 4 (2001), s. 201-209.
Pilarczyk Piotr M.: Polityka gospodarcza jako czynnik kształtowania rozwiązań prawnych. Wpływ na regulacje celne w polskiej skarbowości od XVIII do XX wieku, Studia z Dziejów Państwa i Prawa 16 (2013), s. 73-87.
Poźniak Bronisław: Morski Urząd Celny w przedwojennej Gdyni, Zeszyty Gdyńskie 7 (2012), s. 107-115.
Sowiński Władysław: Hipoteka morska z punktu widzenia kodyfikacyjnego, Gazeta Sądowa Warszawska 65 (1938), nr 5, s. 67-69.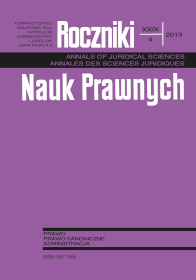 Copyright (c) 2019 Roczniki Nauk Prawnych
This work is licensed under a Creative Commons Attribution-NonCommercial-NoDerivatives 4.0 International License.