Distribution of the Psalms in the Post-Councillor Reform of the Book of the Liturgy of the Hours. Editorial Issues
Jerzy Stefański

Adam Mickiewicz University in Poznań
Keywords:
edition of the Book of the Liturgy of the Hours, distribution of the psalms
Abstract
This study presents the editorial process related with the distribution of the psalms in the post-councillor book of the Liturgy of the Hours. Study Group Three was responsible for these works. It was part of the Consilium ad exsequendam Constitutionem de Sacra Liturgia. As a result several years of editorial work was resignation from the one and a half thousand-year-old tradition to quote the whole of the Psalter during one week. New ordinarium of the Psalter has been introduced with a four-week scheme of the psalms. The above Study Group, supported by the authority of competent organs of the Holy See, established a new set and number of the psalms in each of particular canonical hours of the current Breviarium Romanum. An additional question which the editors of the new book had to face, was the role, meaning, and place of the so-called cursing psalms (or only the very psalmodic lines of this kind) and the historical psalms. Eventually, the above psalms are left out of the ordinarium of the four-week set of the psalms.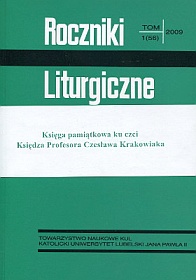 Copyright (c) 2009 Liturgical Annals
This work is licensed under a Creative Commons Attribution-NonCommercial-NoDerivatives 4.0 International License.