Mary as the Pattern of Participation in the Holy Mass
Zdzisław Janiec

John Paul II Catholic University of Lublin, Poland
Keywords:
the Holy Mass, participation, "the Woman of the Eucharist"
Abstract
This paper shows Mary as the pattern of participation in the Holy Mass. Mary as "the Woman of the Eucharist" not only is present in the Liturgy and in liturgical texts (most often by way of mentioning), but her presence is mystical and spiritual. Thus Mary's example rears the participants of the Mass how to become the people of the Eucharist. Special formative moments are the following: Mary's attitude towards the word of God proclaimed at the Mass, prayer of the faithful, preparations of the gifts, worship of God, fellow offering at the Mass, and during the Communion. Mary therefore helps a conscious, full, and fruitfull participation in the Holy Mass in the spirit of the Second Vatican Council.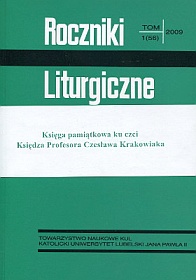 Copyright (c) 2009 Liturgical Annals
This work is licensed under a Creative Commons Attribution-NonCommercial-NoDerivatives 4.0 International License.