The Teaching of the Church on the Holy Scripture and Tradition as the Source Of Preaching
Władysław Głowa

John Paul II Catholic University of Lublin, Poland
Keywords:
homily, canon, sermon, constitution, Holy Scripture, Council, Tradition
Abstract
This paper consists of three parts. In the first part the Holy Scripture and Tradition are presented as one source of Revelation, in the second part they are shown in the life of the Church, and in the third part as the first source for preaching. The latter question brings forth both the Church's clear statements on it (as contained in the definition of homily and sermon, in their structure and purpose), and in indirect statements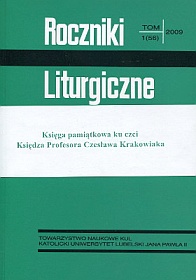 Copyright (c) 2009 Liturgical Annals
This work is licensed under a Creative Commons Attribution-NonCommercial-NoDerivatives 4.0 International License.