The Status of the Archidioceses of Gniezno in the Light of Brevis descriptio historico-geographica ecclesiarum archidioecesis gnesnensis et posnaniensis by Jan Korytkowski of 1888
Keywords:
Archdiocese of Gniezno; pastoral care; organization of the Catholic Church; Kulturkampf
Abstract
This article is an analysis of Jan Korytkowski's work entitled Brevis descriptio historico-geographica ecclesiarium archidioecesis gnesniensis et posnaniensis of 1888. This work is still a valuable resource for research in the organization and the estate structure of the oldest Polish dioceses of Gniezno and Poznań at the time after the Kulturkampf. The work under analysis is not confined to basic data of the sort available from ecclesiastical schematisms. Instead, the work also presents short histories of each parish and with its church, schools, orphanages and ecclesiastical fraternities. Moreover, it lists villages and towns that territorially belonged to each parish. Thanks to the data in Brevis descriptio, it is possible to precisely determine that in 1888, the oldest Polish Archdiocese had 16 deaneries, 207 parishes, 32 filial churches, 36 altarages, 54 oratories and public chapels, 389 parish schools and 28 hospitals. The Archdiocese gathered 354815 souls. Pastoral and state offices were occupied by 211 priests.
References
Aleksandrowicz M.: Wstęp historyczny, "Rocznik Archidiecezji Gnieźnieńskiej" 2010, s. 19-67.
Feldman J.: Problem polsko-niemiecki w dziejach, Katowice 1946.
Grochowski L.: Teofil Wolicki, arcybiskup metropolita gnieźnieński i poznański 1767(8)-1825/1828-1829, Gniezno 1999.
Jaskulski J.: Jan Ignacy Korytkowski 1824-1888, w: Wybitni historycy wielkopolscy, red. J. Strzelczyk, Poznań 2010, s. 108-116.
Kiec O.: Niemieccy duchowni w kapitułach katedralnych Gniezna i Poznania w XIX i XX wieku, w: 1000 lat Archidiecezji Gnieźnieńskiej, red. J. Strzelczyk, Gniezno 2000, s. 349-368.
Kozierowski S.: Szematyzm historyczny ustrojów parafialnych dzisiejszej archidiecezji gnieźnieńskiej, Poznań 1934.
Kozłowski J.: Administracja Wielkopolski pod pruskim zaborem 1793-1918, Poznań 2000.
Krucki Ł.: Archidiecezja gnieźnieńska i jej granice w dokumentach Stolicy Apostolskiej (od XIX do początku XXI wieku), "Kościół w Polsce. Dzieje i kultura" 12 (2013), s. 87-114.
Kryszak F.: Kapituła kolegiacka św. Jerzego na zamku gnieźnieńskim, "Nasza Przeszłość" 24(1966), s. 127-133.
Kumor B.: Ustrój i organizacja Kościoła polskiego w okresie niewoli narodowej (1772-1918), Kraków 1980.
Kuźmak K.: Bractwo kościelne, konfraternia, w: Encyklopedia katolicka, t. II, red. R. Łukaszyk, Lublin 1976, kol. 1013-1020.
Matwiejczyk W.: Niemieccy katolicy w Poznańskiem a polityka narodowościowa rządu pruskiego 1871-1914, Lublin 2009.
Zieliński Z.: Kościół i naród w niewoli, Lublin 1995.
Zieliński Z.: Kościół katolicki w Wielkim Księstwie Poznańskim w latach 1848-1865, Lublin 1973, s. 219.
Zieliński Z.: Kulturkampf w archidiecezji gnieźnieńskiej i poznańskiej w latach 1873-1887, Poznań 2011.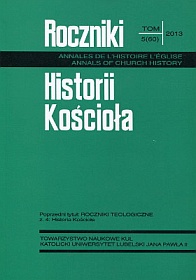 Copyright (c) 2013 Roczniki Historii Kościoła
This work is licensed under a Creative Commons Attribution-NonCommercial-NoDerivatives 4.0 International License.