A Contribution to the History of the Immaculate Conception of Mary Parish in Nidzica in the 19th Century
Marek Jodkowski

University of Warmia and Mazury in Olsztyn
Keywords:
The Bishopric of Culm; The Catholic Church in diaspora; The Catholic Church in Masuria; The funding of a parish; Germany in the 19th and the first half of the 20th century; Religious buildings
Abstract
In the first half of the 19th century, the Catholics of Nidzica, deprived of pastoral care, participated in religious services in neighbouring Janowo. In 1841, when the Russian officials tightened their control of the borders, there occurred a necessity to stimulate the religious life in the Nidzica district. The Catholic mission in Nidzica was founded on 20 February 1854 by Bishop Anastazy Sedlag from Pelplin. Franciszek Wollschläger was appointed as its first priest. The financial support of the new pastoral institution was guaranteed by the Boniface Association in Paderborn. The construction of the church was initiated by another priest from Nidzica, Herman Wodecki. The foundation stone of the new temple was solemnly laid on 20 October 1858. The ceremony of consecration was held on 3 June 1860. Earlier, on 21 February 1860, the mission was upgraded to a parish. Four years later, a Catholic school was opened in Nidzica. In 1890, Józef Januszewski, a priest from Nidzica, built a new presbytery and a tower next to the church. The Catholic population of Nidzica and surrounding areas were poor, so not only the Bishopric of Culm participated in the maintenance costs of the parish, but also religious organisations from other parts of Germany.
References
Archiwum Zarządu Generalnego Stowarzyszenia św. Bonifacego w Paderborn, Teczka: Neidenburg.
Barczewski W.: Nowe kościoły na Mazurach, Olsztyn 19252.
Bielawny K.: Nidzica i okolice. Katolicy i ewangelicy po 1945 roku, Gietrzwałd 2012.
Chłosta J.: Kościół katolicki na Mazurach przed 1945 rokiem, "Warmińskie Wiadomości Archidiecezjalne" 1999, nr 44, s. 81-87.
Diecezja chełmińska. Zarys historyczno-statystyczny, Pelplin 1928.
Grygier T.: Z zagadnień diaspory na Warmii i Mazurach, "Komunikaty Mazursko-Warmińskie" 1959, nr 2, s. 150-179.
Jasiński J.: Między Prusami a Polską. Rozprawy i szkice z dziejów Warmii i Mazur w XVIII-XX wieku, Olsztyn 2003.
Kopiczko A.: Duchowieństwo katolickie diecezji warmińskiej w latach 1821-1945, cz. 1: Studium prozopograficzne, Olsztyn 2004.
Kopiczko A.: Porta Domini. Kościoły jubileuszowe i sanktuaria Świętego Krzyża w archidiecezji warmińskiej, Olsztyn 2002.
Liedtke A.: Zarys dziejów diecezji chełmińskiej do 1945 roku, Pelplin 1994.
Mross H.: Słownik biograficzny kapłanów diecezji chełmińskiej wyświęconych w latach 1821-1920, Pelplin 1995.
"Rocznik Diecezji Warmińskiej" 1985.
Salmonowicz S.: Podziały terytorialne i ustrój polityczny ziem pomorskich w latach 1815-1850, w: Historia Pomorza, t. III: (1815-1850), cz. 1: Gospodarka, społeczeństwo, ustrój, red. G. Labuda, Poznań 1993, s. 55-142.
Schematismus des Bistums Culm mit dem Bischofssitze in Pelplin 1904, Pelplin 1904.
Zielińska A.: Dzieje miasta i okolic w latach 1807-1914, w: Historia Nidzicy i okolic, red. W. Rezmer, Nidzica 2012, s. 202-267.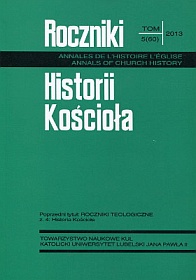 Copyright (c) 2013 Roczniki Historii Kościoła
This work is licensed under a Creative Commons Attribution-NonCommercial-NoDerivatives 4.0 International License.