History of the Fransciscans in Grodno until 1975
Józef Makarczyk

Higher Theological Seminary in Grodno
Keywords:
Grodno; Fathers Franciscans
Abstract
This article deals with the pastoral activity of the Franciscan monks in Grodno from the time of the foundation of the monastery in 1635 until 1975.The patron Eustachy Kurcz bestowed the monks with resources that helped them survive numerous instances of historical turmoil and chaos. The time of the Partitions of Poland witnessed almost a complete demise of the Grodno monastery until 1906. When Poland regained independence, the pastoral vigour of the Grodno Franciscans was rekindled. Among the pastoral initiatives of the time, there was the publishing of Rycerz Niepokalanej [The Knight of the Immaculate Virgin Mary], so well-known for the editorial efforts of Maksymilian Kolbe, who in the years 1922-1927 worked in Grodno as a journalist and a priest. The death of Father Dionizy Klimczak, shot dead by the Nazi in 1943, marked the turbulent history of the monastery during War World II. The geopolitical shifts in the wake of the War caused it that Grodno was incorporated within the USSR. One of the most outstanding promoters of "Peace and Good" at that time was Father Arkadiusz Waltoś.
References
A. K. [Alfons Kolbe], Grodno, "Pochodnia Seraficka" 1926, nr 8, s. 247.
Borowska A.: Kronika, "Pochodnia Seraficka" 1930, nr 12, s. 271-272; 1931, nr 11, s. 348.
Cieszyński N. L.: W ślad za arcybiskupem po Grodzieńszczyźnie, "Gazeta Kościelna" 1927, nr 30, s. 338.
Dyczewski B. L.: Działalność wydawnicza Kościoła katolickiego w Polsce międzywojennej, "Homo Dei" 1972, nr 3.
Jodkowski J.: Grodno, Grodno 1923.
Kaczorowski B., Grodno. Historia i zabytki, Warszawa 1991.
Kantak K.: Franciszkanie Polscy, t. II, Kraków 1938.
Kurczewski J.: Kościół Zamkowy czyli Katedra Wileńska, Wilno 1908.
Ks. Józef Jakub Fordon, "Wiadomości Kościelne Archidiecezji w Białymstoku" 1977, nr 4.
O. Czesław: Z ruchu tercjarskiego w Polsce, "Ateneum Kapłańskie" 12(1926), t. 18.
Przyałgowski W.: Żywoty biskupów wileńskich, t. II, Petersburg 1860.
W. L. (ks. Leon Żebrowski): Ś. P. Ks. Józef-Jakub, w zakonie Melchior Fordon franciszkanin, "Nowe Życie" 1927, nr 25.
Wojtczak A.: Ojciec Melchior Fordon franciszkanin, Kraków 1956, mps.
Wysocki J.: Towiański Feliks, w: Słownik polskich pisarzy franciszkańskich: Bernardyni i Franciszkanie Śląscy, Franciszkanie Konwentualni, Klaryski oraz Zgromadzenia III Reguły, red. H. E. Wyczawski, Warszawa: Archiwum Prowincji 00. Bernardynów 1981, s. 495-496
Synowiec D.: Franciszkanie Polscy w 1772-1970, w: Zakony św. Franciszka w Polsce w latach 1772-1970, cz. 2: Franciszkanie i kapucyni, red. J. R. Bar, Warszawa 1978.
X. A. N.: Ś. P. Ks. Józef-Jakub Fordon, "Wiadomości Archidiecezjalne Wileńskie" 1927, nr 5.
Zaniewski F.: Miłował Boga i ludzi, "Głos znad Niemna" 40(2005), s. 13.
Zieliński Z.: Bibliografia katolickich czasopism religijnych w Polsce 1918-1944, Lublin 1981.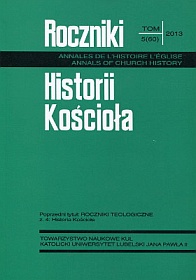 Copyright (c) 2013 Roczniki Historii Kościoła
This work is licensed under a Creative Commons Attribution-NonCommercial-NoDerivatives 4.0 International License.