Male Religious Orders in the Polish Lands at the Turn of the 20th Century. A Close-up on the Diocese of Janów (Podlasie)
Jan Pietrzykowski

Cardinal Stefan Wyszyński University in Warsaw
Keywords:
religious orders in Poland; religious order dissolution; renovation of monastic life; Diocese of Janów (Podlasie)
Abstract
This paper is an attempt to illustrate the massive destruction of male religious orders perpetuated by the Partitioners of Poland, and to show how monastic life was reactivated in the early 20th century. These issues are presented in the background of historical events taking place in the Diocese of Janów (that is the Diocese of Podlasie). This is because the history of this diocese serves as a good illustration of the processes in question. On the one hand, the Diocese of Podlasie experienced extremely difficult and painful history. On the other, it was home to the most significant modern Polish promoter of monastic life – the Blessed Father Honorat Koźmiński. On regaining independence by Poland, some monks moved back to their pre-Partition monasteries, which was possible thanks to considerable support on behalf of Bishop Henryk Przeździecki. However, most monks at that time represented newly formed religious orders. Some of them were created in the territories of Poland, others were "imported" to Poland from Western Europe through the region of Borderland Galicia. Male religious orders have always been central to the structure and religious life of the Catholic Church. Monastic life mirrored the patterns of religious life and spirituality, typical of the particular epoch, period and century. Monks-priests were in charge of Marian shrines, parishes, schools. Many were preachers, engaging in numerous missions and religious retreats.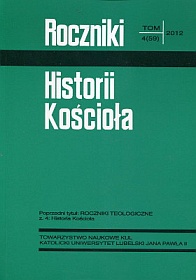 Copyright (c) 2012 Roczniki Historii Kościoła
This work is licensed under a Creative Commons Attribution-NonCommercial-NoDerivatives 4.0 International License.