Entrepreneurship of Shadow Economy
Teresa Piecuch

Rzeszow University of Technology

Elżbieta Szczygieł
Keywords:
entrepreneurship; shadow economy; statistical data
Abstract
The study presents the specificity and scale of the shadow economy in Poland. In the paper, the definitions of the shadow economy were cited, the approach and motives were described, as well as the effects of running a business within its framework. Statistical data on the size of the shadow economy in Poland from official sources (public statistics) and social research were presented. The shadow economy was analyzed from the point of view of entrepreneurial behaviour.
References
Andrews D., Sanchez A.C., Johansson A., Towards a Better Understanding of the Informal Economy, "OECD Economics Department, Working Papers" 2011, No. 873.
Bednarski M., Szara strefa – rynek pracy – integracja społeczna, "Optimum. Studia Ekonomiczne" 2013, nr 6 (66), s. 45-56.
Bretyn A., Młodzi konsumenci wobec szarej strefy w Polsce, "Prace Naukowe Uniwersytetu Ekonomicznego we Wrocławiu" 2015, nr 401, s. 83-92.
Cichocki S., Metody pomiaru szarej strefy, "Gospodarka Narodowa" 2006, nr 1-2, s. 37-61.
Fundowicz J., Łapiński K., Peterlik M., Wyżynkiewicz B., Szara strefa w polskiej gospodarce w 2016 roku, Instytut Badań nad Gospodarką Rynkową, Warszawa 2016.
Janik E., Szara strefa – patologia życia gospodarczego, "Zeszyty Naukowe Uniwersytetu Rzeszowskiego. Seria Prawnicza" 2010, z. 64, s. 41-55.
Medina L., Schneider F.: Shadow Economies Around the World: New Results for 158 Countries over 1991-2015. "Cesifo Working Papers. Category 1: Public Finance" 2017, No. 6430.
Pauch D., Zjawisko szarej strefy w gospodarce, "Zeszyty Naukowe Uniwersytetu Szczecińskiego. Finanse, Rynki Finansowe, Ubezpieczenia" 2015, nr 76 (1), s. 247-255.
Shadow economy, http://www.seipa.edu.pl/index.php/ida/931/ [dostęp: 11.02.2018].
Szarek S., Okliński D., Czynniki wpływające na akceptację szarej strefy w społeczeństwie, "Zeszyty Naukowe Uniwersytetu Przyrodniczo-Humanistycznego w Siedlcach. Administracja i Zarządzanie" 2016, nr 109, s. 87-104.
Śmigiel S., Co czwarty przedsiębiorca działał w szarej strefie, http://wiadomosci.gazeta.pl/wiadomosci/1,114873,9307673,Co_czwarty_przedsiebiorca_dzialal_w_szarej_strefie.html [dostęp: 13.02.2018].
Williams C.C., Nadin S., Tackling the Hidden Enterprise Culture: Government Policies to Support the Formalizations of Informal Entrepreneurship, "Entrepreneurship & Regional Development: An International Journal" 24(2013), No. 9-10, pp. 895-915.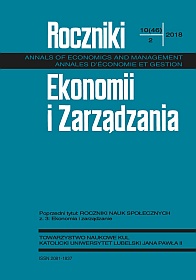 Copyright (c) 2018 Roczniki Ekonomii i Zarządzania
This work is licensed under a Creative Commons Attribution-NonCommercial-NoDerivatives 4.0 International License.