Religious freedom in the papacy of pope Benedict XVI. Seven years of interventions before the UN
Alfonso Riobó

Universidad Complutense, Madrid
Keywords:
religious freedom; Holy See; United Nations; human rights; freedom of religion; Benedict XVI; christians; freedom of conscience; culture of peace; discrimination
Abstract
Wolność religijna za pontyfikatu Benedykta XVI. Siedem lat interwencji przy ONZ
Artykuł przedstawia najważniejsze aspekty interwencji dokonanych przez przedstawicieli Stolicy Apostolskiej przy ONZ, zmagającymi się z zagadnieniem wolności religijnej, w siedem lat po tym, jak Benedykt XVI został wybrany papieżem. W wielu częściach świata trudności związane z wolnością religijną wzrosły lub nabrały nowych form. Interwencje odnoszą się do zagadnień poruszanych podczas każdej debaty w konkretnej sprawie i w konkretnym momencie. Niemniej jednak, odznaczają się niezwykłą spójnością i pomagają zrozumieć, jak dyplomacja papieska promowała prawo do wolności religijnej w latach 2005-2012 i wyrażała myśli i priorytety Benedykta XVI jako Głowy Kościoła Katolickiego na poziomie międzynarodowych relacji.
References
Peeters, Marguerite A. 2011. Marion-ética. Los expertos de la ONU imponen su ley. Madrid: Rialp.
Rocella, Eugenia, and Lucetta Scaraffia. 2008. Contra el cristianismo. La ONU y la Unión Europea como nueva ideología. Madrid: Cristiandad.
Soler, Carlos, and Carlos García. 2001. El papel de la Santa Sede en la ONU. Instituto Martín de Azpilcueta. Pamplona: Navarra Gráfica Ediciones.
Vinicius Brito de Macedo, Marcus. 2010. La diplomacia pontificia como servicio petrino y su participación en la Organización de las Naciones Unidas. Libreria Editrice Vaticana.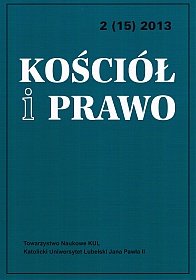 Copyright (c) 2013 Kościół i Prawo
This work is licensed under a Creative Commons Attribution-NonCommercial-NoDerivatives 4.0 International License.