Legal situation of Catholic Church in Polish People's Republic
Piotr Wierzbicki

The John Paul II Catholic University of Lublin, Faculty of Law, Canon Law and Administration
Keywords:
Catholic Church; Polish People's Republic; communist regime
Abstract
Poland, after the Second World War, was in communist bloc. Due to immense political changes which took place against religion and Church. Legal situation of the Church in the Communist Period was extremely difficult because legal status of the Church had not been regulated.
The article includes a legal situation of Catholic Church in Polish People's Republic. At the beginning it was defined the term of "communist regime" regarding churches and other religious unions. The grounds for communist regime is ideological and political monism. It is characterized by negative opinion of religion's role in social life. Society was manipulated by big discrepancy between statutory law and its application.
The following article shows the application of communist regime in Poland. Polish society resisted against the application of that system. Political system against the Church were changing within the years. Finally, the Author showed that dialogue between the Church and communist authorities had a material impact on the legal regulation.
References
Krukowski, Józef. 1992. "Kościół wobec reżymu komunistycznego w Polsce." Kościół i Prawo 10:9-32.
Krukowski, Józef. 1995. "Status prawny religii i Kościoła rzymskokatolickiego w Polsce (1918-1993)." W Religia i Kościół rzymskokatolicki w polskiej myśli politycznej 1919-1993, red. Jan Jachymek, 31-45. Lublin: UMCS.
Krukowski, Józef. 1999. "Represyjność prawa polskiego w zastosowaniu do Kościoła katolickiego w latach 1944-1956." Roczniki Nauk Prawnych 9, z. 2:5-22.
Krukowski, Józef. 2000. Kościół i państwo. Podstawy relacji prawnych. Wyd. 2. Lublin: Redakcja Wydawnictw KUL.
Misztal, Henryk. 2000. "Okres 1945-1989." W Prawo wyznaniowe, red. Henryk Misztal, 132-190. Lublin: Wydawnictwo Diecezjalne w Sandomierzu.
Misztal, Henryk. 2008. "Historia relacji państwo-kościół w Polsce." W Prawo wyznaniowe, red. Artur Mezglewski, Henryk Misztal, i Piotr Stanisz, wyd. 2, 21-31. Warszawa: Wydawnictwo C. H. Beck.
Raina, Peter. 1994. Kościół w PRL. Dokumenty. T. 1. Poznań: "W drodze" Wydawnictwo Polskiej Prowincji Dominikanów.
Raina, Peter. 2001. Cele polityki władz PRL wobec Watykanu. Warszawa: Instytut Wydawniczy Pax.
Skubiszewski, Krzysztof. 1980. "Konkordat z 10 lutego 1925 roku. Zagadnienia prawnomiędzynarodowe." W Kościół w II Rzeczpospolitej, red. Zygmunt Zieliński, i S. Wilk, 35-47. Lublin: Wydawnictwo Towarzystwa Naukowego KUL.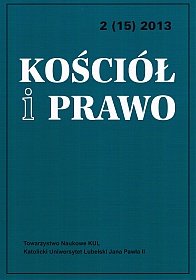 Copyright (c) 2013 Kościół i Prawo
This work is licensed under a Creative Commons Attribution-NonCommercial-NoDerivatives 4.0 International License.