Anticlerical legislation in Spain at the beginning of 30s of the 20th century
Grzegorz Szubtarski

The John Paul II Catholic University of Lublin, Faculty of Theology
Keywords:
Church; Spain; anti-clericalism; anticlerical legislation
Abstract
The article shows the problem of reducing Church influence in Spain at the beginning of 30s of the 20th century by passing a law against the Church.
A good relationship was presented between Spain and the Holy See in 20th century, which brought about the signing of two concordats. Catholic religion was recognised as the main religion of the Spanish nation.
Further is showed a change in this situation at the beginning of the 20th century and an increasing dislike to the Catholic Church among the Spanish nation which was considered to be closer to the authority than the ordinary people.
It is also presented the anticlerical legislation of liberal politicians in 1931-1933. There is attention paid to the Constitution from 1931 which initiated a number of reforms against the Church. At the end there was an outlined relationship between the state and the Church after the civil war in Spain and negative consequences of anticlerical legislation of 30s which had an effect in perception of the Catholic Church in the Spanish community in following years.
References
Banaszak, Marian. 1991. Historia Kościoła katolickiego. T. 3, Czasy nowożytne 1758-1914. Warszawa: Akademia Teologii Katolickiej.
Barton, Simon. 2011. Historia Hiszpanii. Warszawa: Książka i Wiedza.
Beevor, Antony. 2009. Walka o Hiszpanię 1936-1939. Pierwsze starcie totalitaryzmów. Kraków: Wydawnictwo Znak.
Cárcel Orti, Vicente. 2003. Mrok nad ołtarzem. Prześladowania Kościoła w Hiszpanii w latach 1931-1939. Warszawa: Wydawnictwo Pax.
Czubiński, Antoni. 2000. Europa XX wieku. Zarys historii politycznej. Poznań: Wydawnictwo Poznańskie.
Krukowski, Józef. 2000. Kościół i państwo. Podstawy relacji prawnych. Wyd. 2. Lublin: Redakcja Wydawnictw KUL.
Krukowski, Józef. 2008. Polskie prawo wyznaniowe. Wyd. 4. Warszawa: LexisNexis.
Kumor, Bolesław. 2001a. Historia Kościoła. T. 7, Czasy najnowsze 1815-1914. Lublin: Wydawnictwo KUL.
Kumor, Bolesław. 2001b. Historia Kościoła. T. 8, Czasy współczesne 1914-1992. Lublin: Redakcja Wydawnictw KUL.
Lannon, Frances. 2010. Fiasko demokratycznego eksperymentu. Wojna domowa w Hiszpanii 1936-1939. Poznań: AmerCom SA.
Mercati, Angelo. 1954. Raccolta di concordati su materie ecclesiastiche tra la Santa Sede e le Autorità Civili. Vol. 1, 1098-1914. Roma: Tipografia Poliglotta Vaticana.
Miłkowski, Tadeusz. 2006. Kościół w społeczeństwie hiszpańskim XIX i XX wieku. Od mnichów na wojnę do wojny z mnichami. Łask: Oficyna Wydawnicza Leksem.
Pruszyński, Ksawery. 1997. W czerwonej Hiszpanii. Warszawa: Czytelnik.
Ryguła, Piotr. 2009. Wolność religijna w Hiszpanii na tle przemian społeczno-politycznych w latach 1931-1992. Katowice: Wydawnictwo Uniwersytetu Śląskiego.
Salvadó, Francisco Romero. 2009. Wojna domowa w Hiszpanii 1936-1939. Przełożyła Jowita Matys. Warszawa: Bellona.
Utero-Ortaza, Eugenio. 2011. "The Educational Missions under the Second Republic in Spain (1931-1936): a framework for popular education." Paedagogica Historica 47, Issue 1-2:207-220.
Włodarczyk, Tadeusz. 1974. Konkordaty. Zarys historii ze szczególnym uwzględnieniem XX wieku. Warszawa: Państwowe Wydawnictwo Naukowe.
Wyszczelski, Lech. 1986. No pasaran! Madryt 1936-1937. Warszawa: Wydawnictwo Ministerstwa Obrony Narodowej.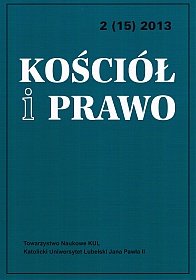 Copyright (c) 2013 Kościół i Prawo
This work is licensed under a Creative Commons Attribution-NonCommercial-NoDerivatives 4.0 International License.