Faith and marriage. From the speech of Benedict XVI to the Tribunal of the Roman Rota 26 January 2013
Wojciech Góralski

Cardinal Stefan Wyszyński University in Warsaw
Keywords:
faith; marriage; sacrament; good of the spouses; Benedict XVI
Abstract
The subject of the annual, latest - as it turned out - speech of Benedict XVI to the Tribunal of the Roman Rota dated 26 January 2013 pertains to the relationship between faith and marriage, in the context of the Year of Faith. It takes into consideration the current crisis of the faith, which is affecting the contemporary human being, bringing with it a crisis of the conjugal society.
The Holy Father refers to i.e. John Paul II and explains that the faith of the party who is baptised is not necessary for contracting sacramental marriage. It requires from those engaged to be married the true intention to contract the marriage according to the natural reality of matrimony. At the same time Benedict XVI pays attention to the fact, that lack of faith may cause the simulation of consent, i.e. according to the bonum coniugum.
References
Benedetto XVI. 2011. "Lettera apostolica Porta fidei." (11.10.2011) L'Osservatore Romano, October 17-18, 4-6.
Benedetto XVI. 2012a. "Alocuzione alla Curia Romana." (22.12.2012) L'Osservatore Romano, December 22, 4.
Benedetto XVI. 2012b. "Discorso alla Commissione Teologica Internazionale." (07.12.2012) L'Osservatore Romano, December 8, 7.
Benedetto XVI. 2012c. "Meditazione alla prima Congregazione Generale della XIII Assemblea Generale Ordinaria del Sinodo dei Vescovi." L'Osservatore Romano, October 10, 7.
Benedetto XVI. 2013. "Discorso in occasione dell'inaugurazione dell'anno giudiziario del Tribunale della Rota Romana." (26 gennaio 2013) L'Osservatore Romano, January 26, 1-3.
Burke, Cormac. 1997. L'oggetto del consenso matrimoniale. Un'analisi personalisica. Torino: Giappichelli.
Clemente, Alesandrino. Paedagogus. I, IV, 10.1, PG 8, 259 B.
Commissione Teologica Internazionale. 2006. "La dottrina cattolica sul sacramento del matrimonio (p. 2.3)." In Documenti 1969-2004. T. 13. Bologna.
Giovanni Paolo II. 1981. "Esortazione apostolica Famliaris consortio." (21.11.1981) AAS 74:184.
Giovanni Paolo II. 2003. "Dicorso alla Rota Romana." (30.01.2003) AAS 95:393-397.
Kowal, Janusz. 2007. "Breve annotazioni sul "bonum coniugum" come capo di nullità." Periodica 96:59-64.
"Relazione sulla attività della Rota Romana nell'anno giudiziario 2006." 2007. Quaderni dello Studio Rotale 17: 81-191.
Tertulianus. Ad uxorem libri duo. II, IX, PL 1, 1415 B-1217A.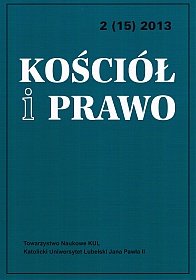 Copyright (c) 2013 Kościół i Prawo
This work is licensed under a Creative Commons Attribution-NonCommercial-NoDerivatives 4.0 International License.