The Special Status of Civil Unions in the Canonical Legal Order When Contracted by Catholics and Omitting the Canonical Form
Keywords:
civil union; matrimonium inexistens; legalization of marriage
Abstract
In the presented study, the author focuses on the problem of the special status of civil unions contracted by Catholics but omitting the canonical form in the canonical legal order. In systemic solutions, as regards the confirmation of the unmarried state, they are perceived in terms of matrimonium inexistens, but the possibility of validating such relationships is not excluded.
It seems that the existing dichotomous solutions were introduced under the influence of specific conditions in which the Church existed under the Pio-Benedictine Code. According to the author, this was caused by both doctrinal considerations (perceiving a civil union as an improper marriage) and practical reasons, as some Catholics living in such unions wanted to legalize them before the Church.
References
Alonso Pérez, José. 2012. Studio giuridico-canonico della convivenza non matrimoniale. Roma: Aracne editrice.
Aznar Gil, Federico. 2003. Derecho matrimonial canónico. Vol. 3. Salamanca: Universidad Pontificia de Salamanca.
Celis Brunet, Ana M. 2002. La relevancia canónica del matrimonio civil a la luz della teoría general del acto jurídico. Contribución teórica a la experencia jurídica chilena. Roma: Gregorian University Press.
Dzierżon, Ginter. 2002. Niezdolność do zawarcia małżeństwa jako kategoria kanoniczna. Warszawa: Wydawnictwo UKSW.
Fabritz, Peter. 2010. Sanatio in radice. Historie eines Rechtsinstituts und seine Beziehung zum sakrementalen Eheverständnis der katholischen Kirche. Frankfurt am Main: Peter Lang Verlag.
Gasparri, Pietro. 1932. Tractatus canonicus de matrimonio. Vol. 2. Roma: Typis Polyglottis Vaticanis.
Giuliano, Cristina. 2015. Il consenso naturalmente sufficiente espresso in assenza della forma canonica e la sua convalidabilità. Roma: Il miolibro self publising.
Jemolo, Arturo C. 1993. Il matrimonio nel diritto canonico. Dal Concilio di Trento al Codice del 1917. Bologna: Mulino.
Keiser, Mattaus. 1965. Der gute Glaube in Codex Iuris Canonici. St. Ottilien: Eos Verlag.
Lalaguna, Enrique. 1962. "El matrimonio civil ante el derecho canonico." Ius Canonicum 2:273-88.
Llobell, Joaquin. 2014. Los procesos matrimoniales en la Iglesia. Madrid: Edizione Rialp.
Martín de Agar, José. 2001. "Matrimonio putativo y convalidación automatica del matrimonio nulo." Ius Canonicum 41:293-317.
Montini, Gian. 1996. "La convalidazione del matrimonio: semplice; sanazione in radice." Quadeni della Mendola 3:187-213.
Navarrete, Urbano. 1963. "Ecclesia sanat in radicie matrimonia inita cum impedimento iuris divini." Periodica 52:348-90.
Peña García, Carmen. 2015. "La revalidación del matrimonio civil." In Matrimonio, Religión y Derecho en una sociedad en cambio. Actos de las XXXV Jornadas de Actualidad Canónistas en Madrid, del 8 al. 10 abril de 2015, 213-40. Madrid: Bosch.
Punzi Nicolò, Angela M. 2012. "Matrimonio civile e matrimonium legitimum. Una prospettiva per il XXI secolo." In Veritas non auctoritas facit legem. Studio di diritto matrimoniale in onore di Piero Antonio Bonnet, ed. Giuseppe Dalla Torre, Carlo Gullo, and Geraldina Boni, 389-94. Città del Vaticano: Libreria Editrice Vaticana.
Rava, Alfredo. 2001. Il requisito della rinnovazione del consenso nella convalidazione semplice del matrimonio (can. 1157 § 2). Roma: Gregorian University Press.
Rincón, Tomás. 1979. "Implicaciones doctrinales del matrimonio civil de los católicos." Ius Canonicum 19:77-158.
Schöch, Nikolaus. 1998. "La sanazio in radice del matriomonio celebrato in forma civile o senza forma pubblica." In La giurisdizione della Chiesa sul matrimonio e sulla famiglia, ed. Joan Carreras, 289-333. Milano: Giuffrè Editore.
Schöch, Nikolaus. 2005. "Il processo documentale e la procedura per la dichiarazione ammnistrativa dell'«attentatio matrimonio»." In La nullita del matrimonio: temi processuali e sostantivi in occassione della «Dignitas Connubii», ed. Héctor Franceschi, Joaquìn Llobell, and Miguel A. Ortiz, 269-98. Roma: Edizioni Università della Santa Croce.
Stankiewicz, Antoni. 2007. "Komentarz do art. 5 § 3 DC." W Komentarz do Instrukcji procesowej "Dignitas connubii", red. Tomasz Rozkrut, 32-33. Sandomierz: Wydawnictwo Diecezjalne i Drukarnia w Sandomierzu.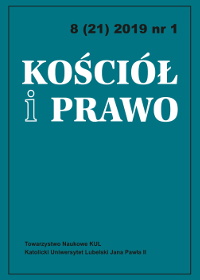 Copyright (c) 2019 Kościół i Prawo
This work is licensed under a Creative Commons Attribution-NonCommercial-NoDerivatives 4.0 International License.