The Obligation to Refrain from Work in the Light of can. 1247 of the 1983 Code of Canon Law
Keywords:
refraining from work; Sunday; third commandment; prohibited work
Abstract
The article analyzes the obligation to refrain from work, based on the Holy Bible, the canonical tradition, the past and current legislation containing documents produced by ecumenical councils, popes, the various commissions of the Holy See, and also opinions of experts in moral theology and canon law.
The first chapter describes the origin and development of this obligation, beginning with the third commandment of the Decalogue and the conduct of early Christians. It should be noted that the first relevant civil law was introduced by Constantine on 1 March 321 AD and was subsequently received by church authorities. Both councils and popes reminded Christians of the importance of refraining from work on Sundays and feasts of obligation.
The second chapter analyzes the legislation of the previous Code in this field. Can. 1248 CIC/17 was very precise because it enumerated activities which one should avoid. Although this way of presenting the obligation was clear, it lost its theological and ecclesial dimension.
The third chapter examines the current legislation concerning the obligation, starting with the Second Vatican Council and analyzing the documents of the Pontifical Commission for the Revision of the Code in order to interpret can. 1247 CIC/83. The chapter also takes into consideration the various documents of the Holy See issued after the promulgation of the current Code.
References
Azzimonti, Carlo. 2005. "Il precetto del riposo festivo nelle circostanze attuali." Quaderni di Diritto Ecclesiale 3 (18): 278-88.
Carli, Luigi Maria. 1958. "Il riposo festivo." Studi cattolici 6 (2): 3-8.
Chrostowski, Waldemar. 2004. Katolicki Komentarz Biblijny. Warszawa: Oficyna Wydawnicza Vocatio.
Civera, Angelo. 1958. "Il riposo festivo." Palestra del clero 37:741-46.
Coronelli, Renato. 2005. "Origine e sviluppo del precetto domenicale e festivo." Quaderni di Diritto Ecclesiale 3 (18): 228-58.
Falsini, Rinaldo. 2004. L'assemblea eucaristica cuore della domenica. Milano: Ancora.
Jone, Eriberto. 1949. Compendio di teologia morale. Torino-Roma: Marietti.
Palazzini, Pietro. 1954. "Santificazione delle feste." In Francesco Roberti, Dizionario di teologia morale, 1204. Roma: Studium.
Rordorf, Willy. 1979. Sabato e domenica nella Chiesa antica. Torino: Società editrice internazionale.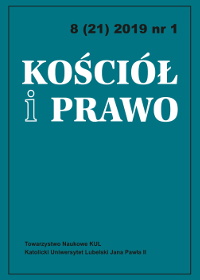 Copyright (c) 2019 Kościół i Prawo
This work is licensed under a Creative Commons Attribution-NonCommercial-NoDerivatives 4.0 International License.