The Catholic Church's Concern for People with Disabilities
Keywords:
Catholic Church, disability, dignity, support, suffering
Abstract
The Catholic Church, in its activities, is guided above all by its mission to support every person. It particularly supports people with disabilities. It shows that, despite their dysfunctions, weaknesses and limitations, such people should be entitled to the same dignity as those without disabilities. The task of caring for the faithful has been entrusted to the bishops. In order to reach out even more to the faithful, the Church directs its assistance through the action of institutions under its authority. The Church's teaching mandates the full inclusion of people with disabilities in the life of local communities such as parishes and in the life of institutions at supra-parochial level. This article aims to give a cross-sectional overview of the teaching and forms of support that the Catholic Church offers to its faithful, and in particular to people with disabilities.
References
Chlewiński, Zdzisław, i Zbigniew Zaleski. 1989. "Godność." W Encyklopedia Katolicka, t. 5, kol. 1231. Lublin: Towarzystwo Naukowe KUL.
Dettlaff, Rafał. 2001. "O godności ludzi z upośledzeniem umysłowym w nauczaniu Jana Pawła II." Studia Gdańskie 14:297-311.
Fedorowicz, Tadeusz. 1960. Uwagi o duszpasterstwie niewidomych. [mps w archiwum Krajowego Duszpasterstwa Niewidomych w Warszawie].
Grzybowski, Michał. 1984. "Kościół wobec osób niepełnosprawnych. Aspekty historyczne." Ateneum Kapłańskie 76:36-41.
Janocha, Witold. 2011. Religijność osób niepełnosprawnych i ich rodzin. Studium socjologiczno-pastoralne. Lublin: Wydawnictwo KUL.
Kiciński, Andrzej. 2006. "Niepełnosprawnych intelektualnie duszpasterstwo." W Leksykon teologii pastoralnej, red. Ryszard Kamiński, 557-60. Lublin: Towarzystwo Naukowe KUL.
Lipiec, Dariusz. 2018. "Przeciwdziałanie marginalizacji niepełnosprawnych w życiu wspólnotowym Kościoła." Polonia Sacra 4 (53):135-49.
Łysik, Barbara. 2017. "Niepełnosprawność intelektualna jako peryferie?" Studia Pastoralne 13:197-98.
Przygoda, Wiesław. 2012. Apostolski wymiar wolontariatu charytatywnego w Polsce. Studium teologicznopastoralne na podstawie badań wolontariuszy z parafialnych zespołów Caritas. Lublin: Towarzystwo Naukowe KUL.
Pyźlak, Grzegorz. 2020. Troska o rodziny w sytuacjach trudnych. Lublin: Wydawnictwo i Drukarnia Diecezji Rzeszowskiej.
Zapotoczny, Robert. 2014. "Osoba niepełnosprawna w Kościele." Wrocławski Przegląd Teologiczny 1 (22):103-26.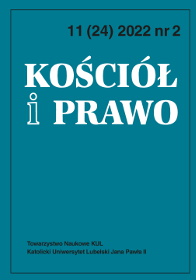 Copyright (c) 2022 Kościół i Prawo
This work is licensed under a Creative Commons Attribution-NonCommercial-NoDerivatives 4.0 International License.