State Financial Control over Costs of Religious Organisations in Ukraine
Keywords:
financial control, religious organisations, financial reporting, financial control bodies, audit
Abstract
The article is devoted to the study of issues of state financial control over the activities of religious organizations in Ukraine through the disclosure of the goals to which such control is directed and the state's intervention in the activities of religious organisations. The analysis was carried out in several directions, which are tools of state influence. First of all, it is a legally defined obligation to keep accounting records by a religious organisation and the requirement to submit financial statements as one of the components of state financial control. Secondly, it is a control over the targeted use of funds that religious organisations can and do receive during the implementation of budget programs. Thirdly, it is the state financial control over the activities of economic entities, which are formed by religious organisations (publishing, printing, production, restoration and construction, agricultural and other enterprises). In each of the cases, the subject of the control activity, control activity procedures and goals that must be achieved as a result of the control procedures carried out by the state bodies differ.
References
"Epifaniy: PTSU obhovoryuye stvorennya «pensiynoho fondu» dlya svyashchen nosluzhyteliv." 2021, https://www.radiosvoboda.org/a/news-epifaniy-pensiyny-fond-sviashchennosluzhyteliv/31222257.html[accessed: 22.09.2022].
Bilash, Oleksandr V. 2014. "Osnovni modeli finansuvannya tserkov i relihiynykh orhanizatsiy u krayinakh Yevropeysʹkoho Soyuzu." Aktualʹni problemy derzhavy i prava, 73:172-178.
Bilash, Oleksandr, and Tetyana Karabin. 2020. "Taxation of religious organizations in Ukraine." Kościół i Prawo 9 (22), no. 2: 65-81.
Bochkov, Pavlo V. 2020. "Osoblyvosti uchasti pidpryyemstv relihiynykh orhanizatsiy u hospodarsʹkykh pravovidnosynakh". Yurydychnyy naukovyy elektronnyy zhurnal, 4:78-80.
Bochkov, Pavlo V. 2022. " Do pytannya derzhavnoho kontrolyu ta nahlyadu za hospodarsʹkoyu diyalʹnistyu pidpryyemstv relihiynykh orhanizatsiy." Juris Europensis Scientia, no. 1: 48-52.
Bochkov, Pavlo V. 2022a. "Aktualʹni pytannya obliku ta opodatkuvannya pidpryyemstv relihiynykh orhanizatsiy v konteksti ponyatiynoho aparatu." Naukovyy visnyk Uzhhorodsʹkoho Natsionalʹnoho Universytetu, Seriya «PRAVO» 69:237-42.
Gliebova, Nataliya, and Iryna Voloshan. 2011. Oblik u neprybutkovykh orhanizatsiyakh. Kharkiv: Vydavnytstvo KHNEU.
Ivanchenkova, Larysa, Skliar Larysa, Tkachuk Halyna, and Tetyana Gnatyeva. 2022. "Transformatsiya systemy derzhavnoho finansovoho kontrolyu v umovakh rynkovykh peretvorenʹ." Visnyk Khmelʹnytsʹkoho natsionalʹnoho universytetu. Seriya: Ekonomichni nauky, 3:120-125.
Korchahina, Vita. 2021. "Ekonomichna bezpeka ta oblikova polityka pidpryyemstva: tochky dotyku." In Suchasni problemy obliku, analizu, audytu y opodatkuvannya subʺyektiv hospodarsʹkoyi diyalʹnosti: teoretychni, praktychni ta osvityansʹki aspekty, 74-77. Dnipro: NMetAU.
Savchuk, Svitlana, Demyanyuk, Antonina, and Zoryana Lobodina. 2017. Prohramno-tsilʹovyy metod byudzhetuvannya. Ternopilʹ: TNEU.
Shytyi, Stanislav I. 2016. "Okremi pytannya opodatkuvannya relihiynykh orhanizatsiy v zakonodavstvi Ukrayiny i Yevropeysʹkoho soyuzu." Naukovyy chasopys NPU imeni M.P. Drahomanova. Seriya 18: Ekonomika i pravo 31:117–122.
Tkachuk, Iryna Ya. 2019. "Teoretychni ta pravovi osnovy dokhodiv instytutiv hromadyansʹkoho suspilʹstva v Ukrayini". Visnyk Universytetu bankivsʹkoyi spravy, no. 2-3 (35-36):3-11.
Vysochan, Ol'ha O. 2018. "Osoblyvosti obliku v relihiynykh orhanizatsiyakh." Naukovyy visnyk Khersons'koho derzhavnoho universytetu. Seriya Ekonomichni nauky 29, no. 2:153-57.
Zolotukhin, Oleg. 2009. "Osnovy bukhhaltersʹkoho obliku relihiynykh orhanizatsiy." Visnyk podatkovoyi sluzhby Ukrayiny, 21(545):30-37.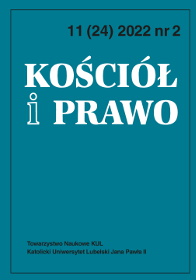 Copyright (c) 2022 Kościół i Prawo
This work is licensed under a Creative Commons Attribution-NonCommercial-NoDerivatives 4.0 International License.