A Pious Will in Canon Law and a Donation in Polish Law
Keywords:
pious regulation of will, donation, execution of pious will, donation tax, tax breaks
Abstract
The pious will is a pious regulation of will for a religious purpose, which distinguishes from the act of donation. No supernatural intention is required for pious will to be valid, but the compilance with the conditions required by law. The ordinary is the executor of all pious wills. To execute this regulation, the donor can order any other person and give a donation for trusteeship. Donations, which are referring to Catholic Church institutions can be divided into those that: are made in terms of religious worship and relating to the charitable – caring activities of the church legal entities. In both pious wills in canon law and donation in state law are unilateral legal actions, between inter vivos and mortis causa.
References
Domaszk, Arkadiusz. 2016. Dobra doczesne Kościoła. Warszawa: Wydawnictwo UKSW.
Gałkowski, Tomasz. 2009. "Pobożny zapis i pobożna fundacja." Prawo Kanoniczne 52, nr 3-4:317-35.
Kaleta, Paweł. 2018. "Wymagania prawne dotyczące pobożnych rozporządzeń woli według Kodeksu Prawa Kanonicznego z 1983 roku." Roczniki Nauk Prawnych 28, nr 3:209-28.
Kaleta, Paweł. 2019. Komentarz do Kodeksu Prawa Kanonicznego. T. 4/1: Księga V. Dobra doczesne Kościoła, red. Józef Krukowski. Poznań: Pallottinum.
Němec, Damian. 2010. "Projekt ustawy o majątku i finansowaniu kościołów i innych związków wyznaniowych w Republice Czeskiej z 2008 r. w świetle obowiązujących umów konkordatowych z państwami postkomunistycznym." Studia z Prawa Wyznaniowego 13:45-67.
Stanisławski, Tadeusz. 2011. "Konsekwencje budżetowe pośredniego wspierania instytucji wyznaniowych ze środków publicznych w Polsce." Studia z Prawa Wyznaniowego 14:269-82.
Walencik, Dariusz. 2010. "Darowizny na działalność charytatywno-opiekuńczą kościelnych osób prawnych." Studia z Prawa Wyznaniowego 13:261-77.
Warciński, Michał. 2012. Odwołanie darowizny wykonanej. Warszawa: Instytut Wymiaru Sprawiedliwości.
Warmuz, Agata. 2012. "Pobożne zapisy jako sposób pozyskiwania dóbr doczesnych w Kodeksie Prawa Kanonicznego z 1983 r. i w partykularnym prawie polskim." Kościół i Prawo 1 (14):153-66.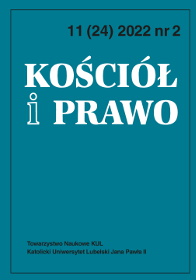 Copyright (c) 2022 Kościół i Prawo
This work is licensed under a Creative Commons Attribution-NonCommercial-NoDerivatives 4.0 International License.