Burying Deceased under the 1983 Code of Canon Law
Keywords:
ecclesiastical funeral, canon law, death, cmentary
Abstract
Ecclesiastical funeral is a very important event for every faithful. Burial of body is not only honoring for deceased but also giving sanctification and hope to alive. In 1983 Code of Canon Law the legislator put regulations in which is defined, who can be buried with ecclesiastical funeral, where the funeral can take place and where the body can be buried.
The article deals with the actual regulations in case of ecclesiastical funeral. The author discusses and analyzes norms of the canons, especially from title III part II book IV of 1983 Code of Canon Law.
References
Chciałowska, Anna. 2017. "Pogrzeb płodu, noworodka, dziecka i osoby dorosłej w prawie kanonicznym." Warszawskie Studia Pastoralne UKSW 34, nr 1:41-69.
Fuentes, José Andrés A. 2011. "Uświęcające zadania kościoła." W Codex Iuris Canonici. Kodeks Prawa Kanonicznego. Komentarz. Powszechne i partykularne ustawodawstwo Kościoła katolickiego. Podstawowe akty polskiego prawa wyznaniowego. Edycja polska na podstawie wydania hiszpańskiego, red. Piotr Majer, 886. Kraków: Wolters Kluwer.
Janczewski, Zbigniew. 2000. "Ewolucja przepisów dotyczących pogrzebu kościelnego od Kodeksu Prawa Kanonicznego z 1917 r." Prawo Kanoniczne 43, nr 1-2:123-40.
Kantor, Robert. 2014. "Odmówienie pogrzebu w Kościele łacińskim. Normy kanoniczne i praktyka duszpasterska." W Człowiek chory i umierający. Możliwości wsparcia i formy pomocy, red. Józef Stala, 153-64. Kraków: Wydawnictwo Naukowe UPJPII.
Nafalska, Edyta. 2016. "Przestępstwo profanacji rzeczy świętej w Kodeksie Prawa Kanonicznego z 1983 r." Kościół i Prawo 5(18), nr 1:265-91.
Nitecki, Piotr. 1977. "Nowe "Ordo Exsequiarum: a paschalne misterium Chrystusa." Studia Theologica Varsaviensia 15, nr 1:95-110.
Pawluk, Tadeusz. 2010. Prawo kanoniczne według Kodeksu Jana Pawła II. T. 2: Lud Boży, jego nauczanie i uświęcenie, Olsztyn: Warmińskie Wydawnictwo Diecezjalne.
Zimoń, Henryk. 2011. "Pogrzeb." W Encyklopedia Katolicka, t. 15, 983. Lublin: Towarzystwo Naukowe KUL.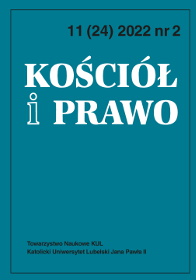 Copyright (c) 2022 Kościół i Prawo
This work is licensed under a Creative Commons Attribution-NonCommercial-NoDerivatives 4.0 International License.