Wiesław Wenz, Marcin Kołodziej, Znaczenie parafii w życiu Kościoła partykularnego [Significance of the parish in the life of a particular Church], Wrocław: Wydawnictwo PWT 2020, ss. 183
Abstract
The authors undertook a study of a problem known to a limited extent and undeveloped in the Polish literature on the subject, all the more so because the publication is a valuable collection of norms and indications in the practical dimension based on the sources of the universal and particular Canon Law. For this reason, this monograph is an excellent compendium for canonists dealing with parishes in the aspects under consideration. The publication brings practical research content that needs to be applied at the level of the activity of individual curia or parishes. The research carried out points to new assumptions aimed at undertaking a new evangelisation, "which will be possible through the full and responsible and committed participation of the lay faithful".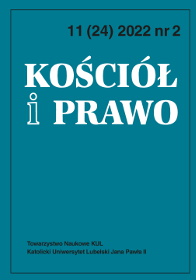 Copyright (c) 2022 Kościół i Prawo
This work is licensed under a Creative Commons Attribution-NonCommercial-NoDerivatives 4.0 International License.