Military and Alternative (Non-Military) Service of Religious Citizens in Ukraine
Keywords:
freedom of conscience, military service, alternative (non-military) service, institution of military chaplaincy
Abstract
The article considers the essence of the proper legal regulation of the military and alternative (non-military) services of religious citizens in Ukraine, which has gained a new relevance in the background of the another stage of the Russian-Ukrainian war. The right to replace the military service with an alternative one, its legal regulation, and the possible enhancement of such regulation are the subject of a full-scaled analysis. The article identifies the issues of the implementation of the right to freedom of conscience in military service in the modern state of war conditions and changes in the religious map of Ukraine. Conclusions were made on the need to preserve the institution of alternative service and the establishment of a full-fledged institution of military chaplaincy.
References
Bilash, Oleksandr, and Tetyana Karabin. 2020. "Legal Regulation of the Military Chaplaincy in Modern Ukraine." Kościół i Prawo 9 (22), no. 2:97-112.
Boyko, Iryna, ed. 2017. Administratyvna protsedura. Kharkiv: «Pravo».
Bratkovs'kyy, Volodymyr M. 2020. Administratyvna vidpovidal'nist' za porushennya zakonodavstva pro mobilizatsiynu pidhotovku ta mobilizatsiyu. L'viv: Halyts'ka vydavnycha spilka.
Fedchyshyn, Serhiy. 2020. "Relihiyna neytral'nist' yak pryntsyp derzhavnoyi sluzhby v Ukrayini." Jurnalul juridic national: teorie şi practică 41, no. 1:66-71.
Fokin, Yaroslav F. 2017. "Sudovi ekspertyzy pry rozsliduvanni ukhylen' vid prokhodzhennya viys'kovoyi strokovoyi sluzhby ta mobilizatsiyi." Mizhnarodnyy yurydychnyy visnyk: aktual'ni problemy suchasnosti (teoriya ta praktyka) (8-9), no. 4-5:269-75.
Hryhorenko, Yevhen I. 2016. "Problemy yurydychnoyi vidpovidal'nosti hromadyan, shcho prokhodyat' al'ternatyvnu (neviys'kovu) sluzhbu ta yikhniy vplyv na yurydychnu vidpovidal'nist' viys'kovosluzhbovtsiv v Ukrayini." Visnyk natsional'noho universytetu imeni V. N. Karazina. Seriya «PRAVO» 22:47-49.
Serdyuk, Oleksandr, and Ivan Yakovyuk, ed. 2017. Teoriya ta praktyka zastosuvannya Konventsiyi pro zakhyst prav lyudyny i osnovopolozhnykh svobod. Kharkiv: Pravo.
Tsyhan, Petro. 2020. "Aktual'ni problemy realizatsiyi v Ukrayini chlenamy protestants'kykh tserkov prava na al'ternatyvnu (neviys'kovu) sluzhbu v period mobilizatsiyi ta shlyakhy yikh vyrishennya." Visnyk L'vivs'koho universytetu. Seriya yurydychna 70:39-48.
Vasin, Maksym S. 2020. Tvoye pravo na svobodu virospovidannya. Posibnyk dlya viruyuchykh, relihiynykh hromad ta posadovykh osib orhaniv vlady. Kyiv: Media svit.
Vasin, Maksym. 2022. "Mobilizatsiya viruyuchykh i al'ternatyvna sluzhba pid chas viyny: pytannya ta vidpovidi." Ofitsiynyy sayt Instytutu relihiynoyi svobody. https://irs.in.ua/p/103 [accessed: 20.03.2022].
Yarmol, Liliya V., and Solomiya R Vand'o. 2020. "Pravo hromadyan na zaminu vykonannya viys'kovoho obov'yazku al'ternatyvnoyu sluzhboyu: yurydychne zabezpechennya v Ukrayini." Yurydychnyy naukovyy elektronnyy zhurnal 7:40-44.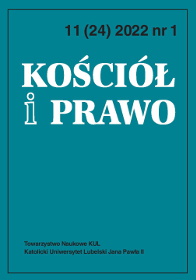 Copyright (c) 2022 Kościół i Prawo
This work is licensed under a Creative Commons Attribution-NonCommercial-NoDerivatives 4.0 International License.