Supervision and Control of the Diocesan Bishop over Data Administrators in the Diocese (Analysis Based on the Example of a Parish)
Keywords:
data protection, inspector, supervision, parish visit, removal of the parish priest
Abstract
When considering the supervision and control of the diocesan bishop over the data administrators in the diocese, it should be stated that he has specific legal means to effectively care for the proper culture of personal data processing, especially in the parish structures. For this purpose, he uses visitation tools based on the provisions of the Code of Canon Law, as well as persons designated to do so. In the event of improper processing of data by the parish, the diocesan bishop has the possibility to initiate the procedure of removing the parish priest to prevent harm to the parish community.
References
Banaszak, Bogusław. 2012. Konstytucja Rzeczypospolitej Polskiej. Komentarz. Warszawa: Wydawnictwo C.H. Beck.
Gałkowski, Tomasz. 2012. "Usunięcie proboszcza. Analiza konkretnego przypadku." Łódzkie Studia Teologiczne 21:89-98.
Gambari, Elio. 1995. Życie zakonne po Soborze Watykańskim II. Kraków: Wydawnictwo Karmelitów Bosych.
Jougan, Alojzy. 1992. Słownik kościelny łacińsko-polski. Sandomierz: Wydawnictwo Diecezjalne Sandomierz.
Krukowski, Józef. 2008. Polskie prawo wyznaniowe. Warszawa: Wolters Kluwer Polska.
Paolis, Velasio. 2010. La vita consacrata nella Chiesa (edizione rivista e ampliata a cura di Vincenzo Mosca). Venezia: Marcianum Press.
Pawluk, Tadeusz. 2010. Prawo kanoniczne według Kodeksu Jana Pawła II. T. 2: Lud Boży jego nauczanie i uświęcanie. Olsztyn: Warmińskie Wydawnictwo Diecezjalne.
Pawluk, Tadeusz. 2016. Prawo kanoniczne według Kodeksu Jana Pawła II. T. 4: Dobra doczesne Kościoła. Sankcje w Kościele. Procesy. Olsztyn: Warmińskie Wydawnictwo Diecezjalne.
Sondel, Janusz. 1997. Słownik łacińsko-polski dla prawników i historyków. Kraków: Wydawnictwo Universitas.
Sztafrowski, Edward. 1992. "Ponadparafialni współpracownicy biskupa diecezjalnego." Prawo Kanoniczne 35, nr 3-4:25-56.
Zubert, Bronisław W. 1990. Komentarz do Kodeksu Prawa Kanonicznego z 1983 r. T. 2. Cz. 3: Księga II. Lud Boży. Część III. Instytuty życia konsekrowanego i stowarzyszenia życia apostolskiego. Lublin: Redakcja Wydawnictw KUL.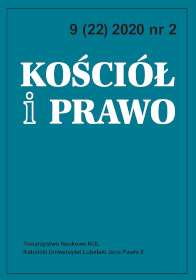 Copyright (c) 2020 Kościół i Prawo
This work is licensed under a Creative Commons Attribution-NonCommercial-NoDerivatives 4.0 International License.