Legal Regulation of the Military Chaplaincy in Modern Ukraine
Keywords:
chaplain, legal regulation, freedom of religion, Armed Forces of Ukraine
Abstract
This study explores the formation of legal regulation of the institute of chaplaincy in Ukraine. It includes an analysis of the stages of development of its regulation in the last thirty years. A number of topical issues were analyzed among others, the need to ensure the right to freedom of conscience and religion to every citizen in a diverse religious environment. There is a need for state financial support of chaplains in the Armed Forces. It should be raised the obligation to ensure equal satisfaction of the religious needs of believers of all confessions without discrimination in the conditions of the Ukrainian and Russian war and influences from the Russian Federation.
References
Afonin, Eduard A. 1994. Stanovlennya Zbroynykh Syl Ukrayiny: sotsial'ni ta sotsial'no-psykholohichni problemy. Kyjiv: Interhrafik.
"Arsen Avakov: MVS za pidtrymky USA rozshyryuye instytut kapelanstva." 2019. https://mvs.gov.ua/ua/news/26063_Arsen_Avakov_MVS_za_pidtrimki_SSHA_rozshiryu_institut_kapelanstva.htm [accessed: 30.11.2020].
Baimov, Ayrat G. 2015. "Voyennoye dukhovenstvo v Rossiyskoy imperii: kratkiy istorikograficheskiy obzor." Istoricheskiye, filosofskiye, politicheskiye i yuridicheskiye nauki, kul'turologiya i iskusstvovedeniye. Voprosy teorii i praktiki Tambov 57, no. 7:18-21.
"Etapy stanovlennya sluzhby viys'kovoho dukhovenstva v Zbroynykh Sylakh Ukrayiny." 2018. https://www.mil.gov.ua/news/2018/12/27/etapi-stanovlennya-sluzhbi-vijskovogo-duhovenstva-v-zbrojnih-silah-ukraini/ [accessed: 30.11.2020].
Holobuts'kyy, Volodymyr. 1994. Zaporozke kozatstvo. Kyjiv: Vyshcha shkola.
"Kerivnyk viddilu dushpastyrstva Departamentu viys'kovoho kapelanstva UHKTS vidvidav 2 Halyts'ku bryhadu NHU." 2020. http://ngu.gov.ua/ua/news/kerivnyk-viddilu-dushpastyrstva-departamentu-viyskovogo-kapelanstva-ugkc-vidvidav-2-galycku-brygadu [accessed: 30.11.2020].
Kryvenko, Yuriy. 2014. "Diyal'nist' viys'kovykh kapelaniv za zakonodavstvom Ukrayiny." Prykarpats'kyy yurydychnyy visnyk 6, no. 3:96-98.
Kryvenko, Juliia, Oleksandr Omelchuk, and Iuliia Chernovaliuk. 2020. "Chaplaincy Institute in Ukraine and EU countries." Journal of Education Culture and Society 11, no. 1:50-58.
Lebedovych, Ivan. 1963. Polevi dukhovnyky Ukrayins'koyi Halyts'koyi Armiyi: u 45-richchya uchasty u Vyzvol'nykh zmahannyakh (Materialy do istoriyi). Winnipeg: Vydav o. Ivan Lebedovych.
Mandrahelya, Volodymyr. 1995. "Deyaki problemy adaptatsiyi dosvidu kapelanstva zakhidnykh armiy do ukrayins'kykh Zbroynykh Syl." In Armiya i dukhovnist': svoboda sovisti ta virovyznannya (Materialy mizhnarodnoyi naukovo-praktychnoyi konferentsiyi). Kyjiv: [no information about Publisher].
Moravčiková, Michaela. 2019. "State and Religion in the Slovak Republic." In State and Church in the European Union, ed. Gerhard Robbers, 563-612. Baden-Baden: Nomos Verlag.
Nepipenko, Ludmila. 2015. "Viys'kovi svyashchenyky (kapelany) u suchasniy Ukrayini." Chest' i zakon 53, no. 2:72-78.
Ostanek, Adam. 2019. "Pol's'ke viys'ko ta natsional'na polityka pol's'koyi vlady u L'vivs'komu, Stanislavivs'komu ta Ternopil's'komu voyevodstvakh u 1921-1926 rokakh." Ukrajina-Pol'shcha: istorychna spadshchyna i suspil'na svidomist 12:50-66.
Pylypiv, Ihor V., and Ruslan I. Delyatyns'kyy. 2018. "Instytut viys'kovykh kapelaniv v Ukrayini (ХХ-ХХІ st.): etapy rozvytku ta rol' u formuvanni ukrayins'koyi natsiyi." Naukovyy visnyk Hileya 134:129-34.
Tavala, Emanuel. 2016. "The juridical status of the chaplains in European armed forces." Jurnalul de Studii Juridice 3-4:23-41.
Tretera, Jiři R., and Záboj Horák. 2017. Religion and Law in the Czech Republic. Ed. 2. Alphen aan den Rijn: Wolters Kluwer.
"U Zbroynykh Sylakh na kapelans'kiy sluzhbi – 85 svyashchennykiv." 2020. https://armyinform.com.ua/2020/01/u-zbrojnyh-sylah-na-kapelanskij-sluzhbi-85-svyashhennykiv/ [accessed: 30.11.2020].
"V armiyi proyshly rotatsiyu mayzhe p'yat' tysyach kapelaniv – Henshtab." 2018. https://www.ukrinform.ua/rubric-ato/2609554-v-armii-projsli-rotaciu-majze-pat-tisac-kapelaniv-genstab.html [accessed: 30.11.2020].
Vasin, Maksim. 2017. "Perspektyvy zakonodavchoho vrehulyuvannya vzayemodiyi derzhavy i relihiynykh orhanizatsiy u sferi vprovadzhennya viys'kovoho kapelanstva." Chasopys Kyyivs'koho universytetu prava 3:96-100.
Vladychenko, Larisa. 2014. "Dosvid uprovadzhennya viys'kovoho svyashchenstva (kapelanstva) u Zbroynykh sylakh Ukrayiny." Skhid 1:180-85.
Yaremchuk, Serhiy. 2019. "Vzayemodiya tserkvy ta armiyi na prykladi vprovadzhennya kapelans'koyi sluzhby v Ukrayini." Relihiya ta Sotsium 35, no. 3:46-54.
Zabzalyuk, Dmytro. 2012. Dushpastyrs'ka sluzhba ukrayins'kykh viys'kovykh formatsiy pershoyi polovyny XX st. L'viv: Lvivs'kyy derzhavnyy universytet vnutrishnikh sprav Ukrayiny.
"Zavdannya kapelana – zakhyshchaty lyudyanist'. Spivrozmovnyk – kapelan o. Andriy Zelins'kyy." 2017. http://oranta.org/index.php?option=com_content&view=article&id=3452:zavdannja–kapelana–zahyshchaty–ljudjanist&catid=27:gk–v–ukrajini–c at&Itemid=00000000057 [accessed: 25.11.2020].
Zdioruk, Serhiy I. 2014. "Sluzhba viys'kovykh kapelaniv u Voyenniy orhanizatsiyi Ukrayins'koyi Derzhavy: neobkhidnist', mozhlyvosti ta perspektyvy." https://niss.gov.ua/sites/default/files/2014-07/Kapelany-3aa20.pdf [accessed: 01.12.2020].
Zdioruk, Serhiy I. 2016. "Polityko-pravovi problemy orhanizatsiyi sluzhby viys'kovykh kapelaniv Ukrayiny." Suspil'no-politychni protsesy 4:211-21.
Zdioruk, Serhiy I., and Vyacheslav D. Yaremchuk. 1995. Dukhovno humanitarni aspekty stratehiyi rozvytku viys'kovykh formuvan' Ukrayiny. Kyjiv: Natsional'nyy instytut stratehichnykh doslidzhen'.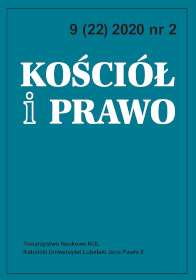 Copyright (c) 2020 Kościół i Prawo
This work is licensed under a Creative Commons Attribution-NonCommercial-NoDerivatives 4.0 International License.