Taxation of Religious Organizations in Ukraine
Keywords:
religious organizations, taxes, tax benefits, non-profit organizations
Abstract
This paper concerns the taxation of religious organizations, enterprises, as well as other institutions established by religious organizations in Ukraine. Both the benefits and tax relief have been investigated in the context of acquisition of non-profit status. It is related to securing the statutory activity of a religious organization in the field of property tax and value added tax. As a rule, religious organizations pay taxes to the state budget according to general rules. This applies to both personal income tax and corporate income tax, as well as social security contributions. On the one hand it creates appropriate conditions for religious organizations to carry out their tasks of providing social services and on the other hand, it provides the principle of equality and nondiscrimination of different commercial subjects.
References
Bardashevych, Nataliya A. 2011. Khozyaystvenno-pravovoe obespechenye deyatel'nosty relyhyoznykh orhanyzatsyy. Dysertatsiya na zdobuttya stupenya kandydata yurydychnykh nauk. Donets'kyy natsional'nyy universytet.
Bardashevych, Nataliya O. 2011. "Relihiyni orhanizatsiyi yak sub'yekty hospodars'koho prava." Visnyk Donets'koho natsional'noho universytetu 1, no. 2:361-64.
Bochkov, Pavlo V. 2016. "Relihiyna orhanizatsiya yak sotsial'na i pravova struktura. Sproba definityvnoho analizu." Naukovyy visnyk pryvatnoho ta publichnoho prava 5:76-80.
Bochkov, Pavlo V. 2017. "Hospodars'ka diyal'nist' relihiynykh orhanizatsiy yak riznovyd poza kul'tovoyi relihiynoyi diyal'nosti." Aktual'ni problemy vitchyznyanoyi yurysprudentsiyi 3:70-73.
Borysova, Valentyna. 2014. "Relihiyna orhanizatsiya – funktsional'nyy vyd nepidpryyemnyts'kykh orhanizatsiy." Pravo Ukrayiny 2:123-30.
Il'chenko, Lyudmyla B., and Ol'ha H. Vechirko. 2016. "Administruvannya splaty podatki neprybutkovymy orhanizatsiyamy." Visnyk Khmel'nyts'koho natsional'noho universytetu. Ekonomichni nauky 5, no. 1:220-23.
Jun, Byung W., and Sung M. Yoon. 2018. "Taxpayer's Religiosity, Religion, and the Perceptions of Tax Equity: Case of South Korea." Religions 9:333.
Kryvenko, Yuriy V. 2006. "Shchodo spivvidnoshennya ponyat' «tserkva» ta «relihiyna orhanizatsiya»." Universytets'ki naukovi zapysky: chasopys Khmel'nyts'koho universytetu upravlinnya ta prav 2 (18): 130-32.
Kryvenko, Yuriy V. 2019. "Okremi pytannya shchodo prava vlasnosti na mayno relihiynykh orhanizatsiyi." Prykarpat•s'kyy yurydychnyy visnyk 1 (26): 54-57.
Lyutyy, Ihor O., Anatoliy B. Dryha, and Myhaylo O. Petrenko. 2005. Podatky na spozhyvannya v ekonomitsi Ukrayiny. Kyiv: Znannya.
Mak, Liliya. 2016. "Postiyne korystuvannya zemleyu yak subinstytut zemel'noho prava Ukrayiny." Visegrad Journal on Human Rights 3:113-18.
Payda, Yuriy YU. 2018. "Ponyatiyno-teoretychni osoblyvosti relihiynykh instytutsiy." Naukovyy visnyk L'vivs'koho derzhavnoho universytetu vnutrishnikh sprav 3:68-76.
Piddubna, Victoriya. 2004. "Shchodo spetsial'noyi pravozdatnosti relihiynykh orhanizatsiy." Pravo Ukrayiny 11:112-15.
Pys'mennyy, Vitaliy V. 2015. "Moral'no-etychni aspekty opodatkuvannya u khrystyyans'komu virovchenni." Nauka moloda 23:73-79.
Shpomer, Alla I., and Anastasiya O. Shvans'ka. 2017. "Relihiyni orhanizatsiyi yak sub'yekty nekomertsiynoyi hospodars'koyi diyal'nosti." Zhurnal skhidnoyevropeys'koho prava 39:18-23.
Shytyy Serhiy I. 2016. "Okremi pytannya opodatkuvannya relihiynykh orhanizatsiy v zakonodavstvi Ukrayiny i Yevropeys'koho Soyuzu." Naukovyy chasopys NPU imeni M. P. Drahomanova. Seriya Ekonomika i pravo 31:117-22.
Strielkowski, Wadim, and Inna Čábelková. 2015. "Religion, Culture, and Tax Evasion: Evidence from the Czech Republic." Religions 6:657-69.
Tymchenko, Olena M. 2014. "Fiskalni naslidky perehlyadu pilh z PDV." Aktualni problemy rozvytku ekonomiky rehionu 10:7-15.
Vasin, Maksym. 2016. "Podatkova pastka dlya relihiynykh orhanizatsiy. Relihiyno-informatsiyna sluzhba Ukrayiny." https://risu.org.ua/ua/index/expert_thought/comments/63389/ [accessed: 10.05.2020].
Vorona, Ivanna I. 2016. "Kharakterystyka ukrayins'koyi tserkovno-relihiynoyi terminolohiyi." Naukovyy visnyk Mizhnarodnoho humanitarnoho universytetu. Seriya filolohiya 23, no. 1:14-16.
Vysochan, Ol'ha O. 2018. "Osoblyvosti obliku v relihiynykh orhanizatsiyakh." Naukovyy visnyk Khersons'koho derzhavnoho universytetu. Seriya Ekonomichni nauky 29, no. 2:153-57.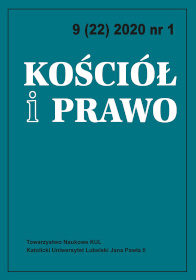 Copyright (c) 2020 Kościół i Prawo
This work is licensed under a Creative Commons Attribution-NonCommercial-NoDerivatives 4.0 International License.