Organizational and Legal Regulation and Practice of the Ukrainian Customs Activity on Returning Church Property
Keywords:
cultural property; smuggling; customs authorities; customs offenses; liability
Abstract
The purpose of the article is to analyze the current state of legal regulation of issues related to the protection of cultural heritage and the transfer of cultural property across borders. It is also to determine the role and place of customs authorities of Ukraine in the implementation of measures to restore church property. The study explores international standards in the field of preservation of cultural monument and heritage of the peoples of the world and compares of the state regulatory in the national legislation of Ukraine. The procedure and conditions of export – including temporary – cultural property from the territory of Ukraine have been clarified. Subjected to the comparative analysis of the terminology contained in international and national legal sources on these issues.
References
Čevers, Thomas, and Aldis Čevers. 2017. "Smuggling of cultural property as a threat to the intellectual security of society: criminal legislation and its problems." Customs Scientific Journal CUSTOMS 7, no. 2:82-94.
"Chops'ka mytnytsya peredala 75 ikon odniy iz tserkov Uzhhoroda." 2010. https://ua-reporter.com/uk/news/chopska-mytnycya-peredala-75-ikon-odniy-iz-cerkov-uzhgoroda [accessed: 30.11.2019].
"Chops'ka mytnytsya peredala uzhhorods'kiy tserkvi 33 ikony." 2013. http://sfs.gov.ua/ media-tsentr/novini/83413.html [accessed: 30.11.2019].
Hulkevych, Volodymyr D. 2017. "Ob.'yektyvna storona kontrabandy kul'turnykh tsinnostey." Naukovyy visnyk Khersons'koho derzhavnoho universytetu 4, no. 2:49-53.
Kharaberiush, Aleksandr І. 2015. "Osoblyvosti protydiyi kontrabandi kul'turnykh tsinnostey." Forum prava 4:287-91.
"Mytnytsya Finlyandiyi peredala v dar Tserkvi kolektsiyu iz 17 konfiskovanykh ikon." 2018. https://religions.unian.ua/orthodoxy/10090595-mitnicya-finlyandiji-peredala-v-dar-cerkvi-kolekciyu-iz-17-konfiskovanih-ikon.html [accessed: 30.11.2019].
Sheremetyns'ka, Oksana V., Olena A. Batalova, and Mykhaylo A. Sheremetyns'kyy. 2016. "Osoblyvosti mytnoho kontrolyu ta rehulyuvannya peremishchennya kul'turnykh tsinnostey." Naukovyy visnyk Uzhhorods'koho natsional'noho universytetu. Seriya Mizhnarodni ekonomichni vidnosyny ta svitove hospodarstvo 6, no 3:145-48.
"Tserkovni tsinnosti povertayut'sya v lono Pravoslavnoyi Tserkvy." 2011. https:// religions.unian.ua/state/558519-tserkovni-tsinnosti-povertayutsya-v-lono-pravoslavnoji -tserkvi.html [accessed: 30.11.2019].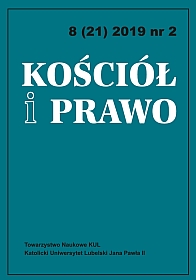 Copyright (c) 2019 Kościół i Prawo
This work is licensed under a Creative Commons Attribution-NonCommercial-NoDerivatives 4.0 International License.