Servant of God Stefan Cardinal Wyszyński – the Care about Sacramental Life of Nation
Krzysztof Nykiel

Pontifical Gregorian University, Rome
Keywords:
priest; bishop; baptism; confirmation; orders
Abstract
Primate of the Millenium Stefan Wyszyński as a priest, bishop and cardinal in yourself pastoral work was involved in sacramental life of Nation. Serving ministries in dioceses of Włocławek and Lublin and archidioceses of Gniezno and Warsaw prepared to receive Firs Communion several thousand children. Only in the diocese of Lublin he administered the sacrament of confirmation over 80 thousand faithful. Also he ordained over 1000 priests and consecrated over 50 bishops.
References
Czacka, Zofia. 1981. "Kozłówka – czas okupacji 1940-1945." Ateneum Kapłańskie 97, z. 2:321-27.
Czaczkowska, Ewa. 2013. Kardynał Wyszyński. Biografia. Kraków: Wydawnictwo Znak.
Granat, Wincenty. 1964. Dogmatyka katolicka. Synteza. Lublin: Towarzystwo Naukowe KUL.
Kudasiewicz, Józef. 1992. "Biblijna teologia chrztu". W Chrzest – nowość życia, red. Antoni Jozafat Nowak, i Walerian Słomka, 23-35. Lublin: Towarzystwo Naukowe KUL.
Nitecki, Piotr. 2008. Włocławskie dzieje ks. Stefana Wyszyńskiego 1917-1946. Warszawa: Soli Deo.
Pylak, Bolesław. 1996. Biskup Lubelski Stefan Wyszyński jako duszpasterz w świetle protokołów wizytacji parafialnych. Lublin: Lubelskie Wydawnictwo Archidiecezjalne.
Romaniuk, Marian Piotr. 2011. Kardynał Stefan Wyszyński. Rys biograficzny w trzydziestą rocznicę narodzin dla nieba. Biografia, teksty źródłowe, kult. Gniezno: Prymasowskie Wydawnictwo Gaudentinum.
Szponar, Adam. 2003. Świadectwo chrześcijańskiego życia. Aspekt wiarygodnościowy według kardynała Stefana Wyszyńskiego. Lublin: Towarzystwo Naukowe KUL.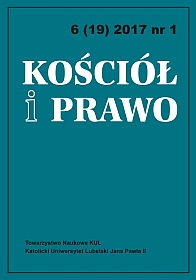 Copyright (c) 2017 Kościół i Prawo
This work is licensed under a Creative Commons Attribution-NonCommercial-NoDerivatives 4.0 International License.