Competences Concerning Christian Faithful Greek Catholic Rites in Poland
Stanisław Kawa

Theological Institute St. Joseph Bilczewski in Lviv
Keywords:
relations between Church and State; enrollment to the Church; sacraments; ecclesiastical good
Abstract
Competences of Primate of the Millennium concerned the affairs inside of the Church, external relations between the State and the Church and defense of a cultural and sovereignty of the Nation.
Realizations of these competences in facultas speciales form was related to the following groups of issues: care for the good of Greek and Armenian Church, authorization of receive a Latin Rite, dispensation from the matrimonial impediments and authorization of priests for the celebration of the Eucharist in Latin Rite.
References
Drozd, Roman. 2016. "Władze wobec Kościoła greckokatolickiego w Polsce w latach 1944-1989." http://uitp.net.pl/index.php/opracowania/43-wladze-wobec-kosciola-greckokatolickiego [dostęp: 6.12.2016].
Janczewski, Zbigniew. 1990. "Prerogatywy Prymasów Polskich." Śląskie Studia Historyczno-Teologiczne 31:157-69.
Kowalczyk, Józef. 2011. "Kardynał Stefan Wyszyński Prymas Polski a Stolica Apostolska [wystąpienie z dnia 25 maja 2011 r. w Katolickim Uniwersytecie Lubelskim Jana Pawła II podczas sympozjum pt. "Stefan Kardynał Wyszyński – Pasterz Kościoła i Ojciec Narodu"]." http://www.prymaspolski.pl/pl/prymas_polski/oficjalne_wypowiedzi/kardynal_wyszynski_a_stolica_apostolska_-_wystapienie_na_kul-u.html [dostęp: 7.12.2016].
Krukowski, Józef. 2011. "Uprawnienia nadzwyczajne Kard. Stefana Wyszyńskiego Prymasa Polski wobec zagrożeń ze strony reżimu komunistycznego." Studia Prymasowskie 5:29-42.
Mikołajczuk, Krzysztof. 2014. Uprawnienia Kardynała Stefana Wyszyńskiego wobec Kościoła Greckokatolickiego w archiwaliach Prymasa i Konferencji Episkopatu Polski. Lublin: Wydawnictwo Archidiecezji Lubelskiej "Gaudium".
Sitarz, Mirosław. 2004. Słownik prawa kanonicznego. Warszawa: Instytut Wydawniczy PAX.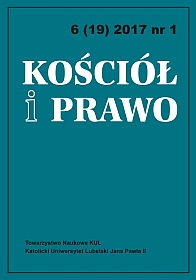 Copyright (c) 2017 Kościół i Prawo
This work is licensed under a Creative Commons Attribution-NonCommercial-NoDerivatives 4.0 International License.