Ecclesial Legal Entity as a Licensee of Royalties
Michał Skwierczyński

Pontifical Faculty of Theology in Wroclaw
Keywords:
ecclesial legal entity; royalties; licensee; (copyright) work; remuneration of authors
Abstract
Ecclesial legal entities purchasing royalties basing on a license agreement according to can. 1290 as well as can. 22 of the 1983 Canon Law Code shall comply with copyright regulations of the Act on Copyright and Related Rights applicable in Poland. Protection of authors' remuneration rights for the use scientific, literary, architectonical or contemporary visual arts work is treated by the Polish legislator as a priority. The licensee of a copyright work having the status of an ecclesial entity is treated on the same basis as any other participant in authors' rights trade. Lack of a licence agreement or its improper structure (for instance, inaccurate determination of the fields of use) does not only conflict with the Church property rights, but also an ecclesial legal entity can be subject to fines in the amount up to twofold author's remuneration, being unlawful according to the above-mentioned regulations.
References
Adamowicz, Leszek, i Mirosław Kawa. 2000. "Zobowiązania Kościoła katolickiego w zakresie ochrony praw autorskich." W Przesłanie chrześcijańskie a mass media. Aspekty prawnokanoniczne. Materiały spotkania wykładowców prawa kanonicznego (WSD OO. Redemptorystów, Tuchów, 7-8 kwietnia 1999 r.), red. Adam Kaczor, 51-55. Lublin: Wydział Prawa Kanonicznego i Świeckiego Katolickiego Uniwersytetu Lubelskiego, Katedra Teologii i Norm Ogólnych Prawa Kanonicznego.
Barta, Janusz, i Ryszard Markiewicz. 2007. "Obowiązek wymienienia pól eksploatacji w umowie licencyjnej." Zeszyty Naukowe Uniwersytetu Jagiellońskiego 4:15-28.
Barta, Janusz, Monika Czajkowska-Dąbrowska, Zbigniew Ćwiąkalski, Ryszard Markiewicz, i Elżbieta Traple. 2005. Prawo autorskie i prawa pokrewne. Komentarz. Kraków: Zakamycze.
Barta, Janusz, i Ryszard Markiewicz. 2016. Prawo autorskie. Warszawa: Wolters Kluwer Polska.
Góralski, Wojciech, i Andrzej Pieńdyk. 2000. Zasada niezależności i autonomii państwa i Kościoła w konkordacie polskim z 1993 roku. Warszawa: Wydawnictwo UKSW.
López Alarcón, Mariano. 2011. "Dobra doczesne Kościoła." W Codex Iuris Canonici. Kodeks Prawa Kanonicznego. Komentarz. Powszechne i partykularne ustawodawstwo Kościoła katolickiego. Podstawowe akty polskiego prawa wyznaniowego. Edycja polska na podstawie wydania hiszpańskiego, red. Piotr Majer, 929-82. Kraków: Wolters Kluwer Polska.
Targosz, Tomasz, i Karolina Włodarska-Dziurzyńska. 2010. Umowy przenoszące autorskie prawa majątkowe. Warszawa: Wolters Kluwer Polska.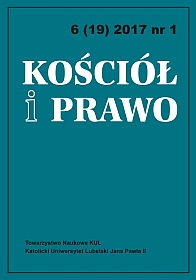 Copyright (c) 2017 Kościół i Prawo
This work is licensed under a Creative Commons Attribution-NonCommercial-NoDerivatives 4.0 International License.